Home
>>
Education & Training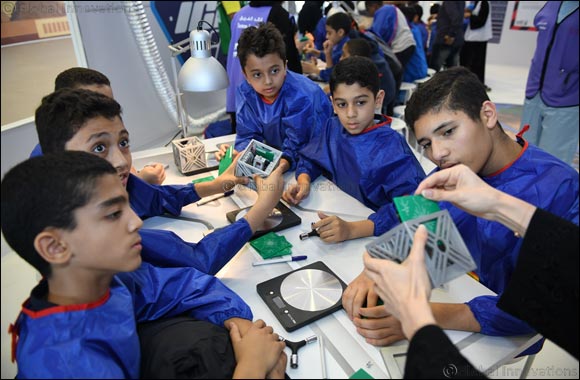 ADEK: Ninth edition of Abu Dhabi Science Festival 2019 returns with great turnout
Abu Dhabi, 2nd, February 2019: Held under the patronage of His Highness Sheikh Mohamed bin Zayed Al Nahyan, Crown Prince of Abu Dhabi and Deputy Supreme Commander of the UAE Armed Forces, the ninth edition of the Abu Dhabi Department of Education and Knowledge's (ADEK's) Abu Dhabi Science Festival (ADSF) is witnessing great interaction among school students among various workshops and activities, which are being held at A'l Bahar, Abu Dhabi Corniche. 27,300 students are expected to attend the festival which will last until February 9th 2019.
Relating to the ADSF's significant role in stimulating students' interest in science over the past years, the interest of Abu Dhabi school students in science and mathematics subjects has increased from nine percent in 2017 to 11 percent in 2018.
Mr. Salem Al Shamsi, Director of the ADSF 2019 project and Acting Knowledge Management and Education Analytic Director at ADEK, said, "The Abu Dhabi Science Festival is one of the biggest annual science festivals in the Middle East, which showcases exciting, engaging and educational activities for all family members. It also contributes to promoting the spirit of discovery and innovation among future generations in the STEAM fields."
Mr. Mohammed Bin Breik, Manager of the ADSF 2019 project, said: "ADSF offers students fun and educational experiences which contribute to preparing future generations while focusing on using modern technology in the process of enhancing education, as well as stimulating the young minds in science subjects. In return, this will raise a creative and innovative future generation to lead the way towards a knowledge based economy and a successful future for the UAE," he added.
The ADSF attracted a great number of people, witnessing more than 17,000 visitors on the first day. ADSF includes a variety of workshops that highlight various innovative areas, such as the 'Secrets of Space' workshop, which provides students a model of the solar system and gives them the opportunity to discover its wonders and identify the movement of stars and planets.
The festival also includes a 'Drone Dynamics' workshop, which teaches students how to program a drone from scratch using a simple graphical programming language in a fun way that aims at promoting their passion of drone flight. For space lovers, ADSF offers the 'Cube Sat' workshop that helps students design their own tiny space machine and discover how satellites can help them learn more about space. In the "Robo Wars" workshop, students will construct their own remote controlled robots, after assembling its pieces with the help of a team of experts; they then compete by testing their Robo-building skills to become the next Robo Wars Champion.
For those who are passionate about nuclear power, the "Power It Up" workshop is made for them. It takes students on a journey into the energetic world of nuclear power, to explore the radioactive particles surrounding us and how to use them in nuclear power.
The "Mission to Mars" workshop will take students on a journey to be part of the first UAE colony on Mars, where they will learn about virtual reality and augmented reality, promoting their passion for discovery and knowledge.
This year, the Abu Dhabi Science Festival is being held at A'l Bahar, Abu Dhabi Corniche, Al Jahili Park in Al Ain, and City Mall in the Al Dhafra region, until the 9th of February, 2019. It will be open for school visits from 9 am to 1 pm. On weekdays, it will also be open to the general public from 4 pm to 10 pm, while on weekends it will be open from 2 pm to 10 pm.
Parents are encouraged to pre-prepare prior to arriving to the ADSF site, by booking an age appropriate activity and/or workshop for their child.
Home
>>
Education & Training Section