Home
>>
Entertainment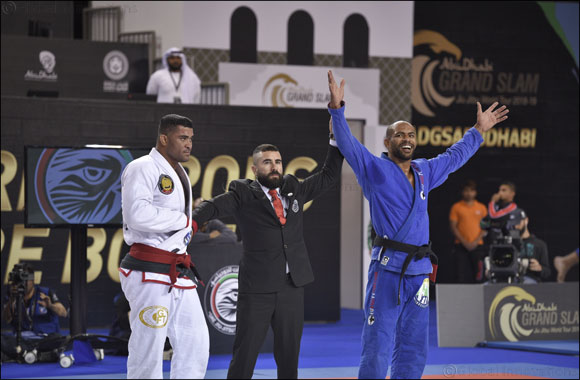 Abu dhabi Grand Slam® Jiu-Jitsu World Tour fifth and final leg of season 4 heads to london on 9th and 10th march
Abu Dhabi Grand Slam® Jiu-Jitsu World Tour returns to Copper Box Arena on 9th and 10th March 2019
The Winners at the Abu Dhabi Grand Slam® in London will win a combined total of $120,000 in Cash Prizes
Dubai - UAE, 9th February, 2019: The UAE Jiu-Jitsu Federation® [UAEJJF], the official authority for the sport of Jiu-Jitsu in the United Arab Emirates, announces the fifth and final leg of the Abu Dhabi Grand Slam® Jiu-Jitsu World Tour season 4, to be hosted, at the Copper Box Arena in London, UK on 9th and 10th March 2019. After four successful events that exceeded expectations in Tokyo [Japan], Los Angeles [USA], Rio de Janeiro [Brazil] and Abu Dhabi [UAE], the Grand Slam promises an action packed two-day event in London to close the championship tour in style.

The Abu Dhabi Grand Slam® registrations are now open, please visit https://events.uaejjf.org/en/event/122. All nationalities are welcome to register; the medalists of each division will earn points in the UAEJJF World Rankings and combined total cash prizes of $120,000. Top ranked competitors will receive huge prizes at the end of the season according to the UAEJJF World Ranking.
"To bring the Abu Dhabi Grand Slam® brand to London once again for the final leg of the tour is really great, it is a special city which is showing improved signs of development in the sport of jiu-jitsu.
"We will be back for season 5 in July 2019 to continue this incredible jiu-jitsu journey. I can't thank enough all our sponsors and TV partners for their continued support. Season 5 promises to be bigger and better, as we will be entering a new market in Moscow, Russia, which takes Abu Dhabi Grand Slam Jiu-Jitsu world tour to 6 countries in 5 continents."
Said H.E. Abdulmunam Al Hashemi, Chairman of the UAE Jiu-jitsu Federation, President of Jiu-Jitsu Asian Union & Senior Vice President of Jiu-Jitsu International Federation
It has been a great season for British black belt Samantha Cook, who won Gold in Tokyo in the 70kg division, beating Claudia Do Val. After the initial success in Japan, Samantha had strong performances in the next three events of the season, in Los Angeles, Rio de Janeiro and Abu Dhabi.
Brazil's Thamara Silva stopped her in all of the three events. In Abu Dhabi, this past January, they fought one of the most thrilling matches of the season, with a back take in the final 15 seconds, Thamara was able to reverse the scoreboard from a 0-2 to a 4-2 and secure the gold medal, her third in the season.
The Abu Dhabi Grand Slam London will be the final chance for Samantha to dethrone Thamara and earn back the top of the podium in the 70kg division.
"My mindset is really strong. I genuinely believe I had her beat on our last match, so now it's time to do the job." Samantha said, "London definitely adds to it. My team, my coaches and friends will all be there supporting me. I feel very confident, which is crazy after losing the last few finals. I have her measure now. I played smart in the last match and almost did it. Now it's time to win."
"I'm in my 30s and I train part time in the evenings. I am a two-time Abu Dhabi Grand Slam Champion competing against girls much younger than me who train full time. But competitions like the Grand Slam are providing a platform that our sport needs." Said Samantha Cook, British black belt champion
Home
>>
Entertainment Section