Home
>>
Entertainment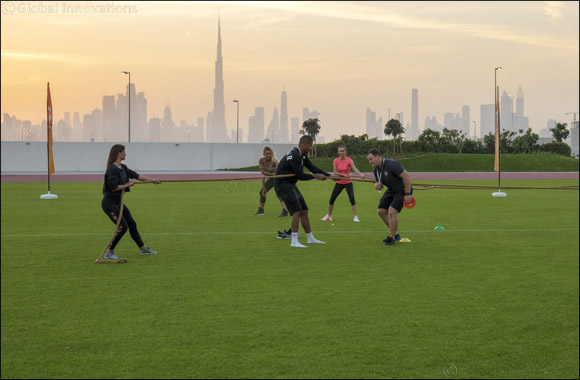 Deadline extended to register for first ever Dubai Corporate Sports Championship
UAE businesses now have till February 12 to register for the ultimate corporate sports experience
Dubai, February 10, 2019 – UAE companies have just one more week to sign up for Dubai's ultimate corporate sports experience.
Launched in the Year of Tolerance, and in partnership with Dubai Sports Council, the Corporate Sports Championship will put your company on the path to happiness and health in 2019.
To be held on the weekend of February 22-23 at the state of the arts Swiss International Scientific School, with stunning views of Downtown and the Burj Khalifa, the Corporate Sports Championship will feature 18 different sports and activities for men, women, and mixed teams.
Over two thrilling days of fun and friendly sporting competition, companies from all over the UAE will join together in sports including football, cricket, basketball, track & field, beach volleyball and golf, at the nearby Dubai Creek Golf Club.
There's also a chance to hit the water with swimming and water challenge events in the SISS's stunning Olympic size pool plus racquet sports like tennis, padel tennis and table tennis.
For those with an adventurous spirit there's mountain climbing and for the real office heroes the Dubai's official Corporate Sports Championship even includes foosball. Or if you want your staff to really pull together then how about a four-way Tug of War, adding another dimension to an old challenge.
The registration package also entitles participants to complimentary healthy food and beverages throughout the weekend.
We haven't forgotten the family either, with the Entertainment Village offering a packed programme of fun activities for family and friends, making it a great family day out.
The Dubai Corporate Sports Championship will also provide a much sought after networking opportunity, giving you the chance to rub shoulders with C-level executives from across the UAE.
Everybody who is anybody in the business world will be present over the weekend.
There's also great prizes. Companies will have the chance to win both team and individual awards totaling more than AED300,000.
The weekend opens with a glittering welcome Gala Dinner and Reception on Thursday February 22nd at the stunning Bvlgari Resort Dubai plus a spectacular closing awards ceremony.
"The Corporate Sports Championship is set to revolutionise corporate wellness in the UAE," said Mohammed Husary, Founder and CEO of Corporate Sports.
"With no less than 18 sports and team-building activities, as well as our Wellness Seminar programme and Family Entertainment Village there is literally something for everyone."
"It is fitting we are launching the Corporate Sports Championship in the Year of Tolerance, as the weekend will bring companies, executives, employees and families together in unison at the ultimate sports day."
"The Corporate Sports Championship is tolerance in action."
Home
>>
Entertainment Section