Home
>>
Government, Legal & Humanity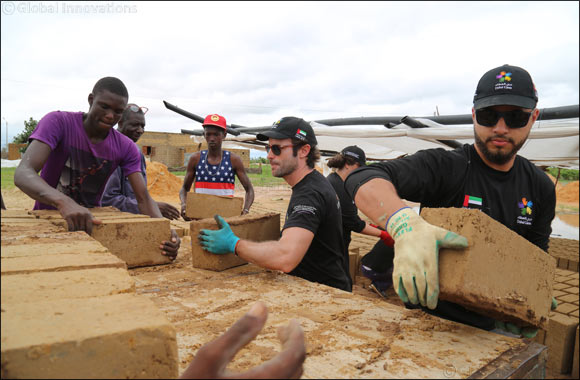 Dubai Cares' volunteers will land in Malawi for the first time in June 2019
Registrations for Volunteer Globally in Malawi are submitted through the UAE Volunteer Platform
15 UAE-based volunteers will be selected to travel to Kasungu in Malawi
Dubai, United Arab Emirates – 20 February, 2019: Dubai Cares, part of Mohammed Bin Rashid Al Maktoum Global Initiatives, has announced a new destination for its popular volunteering initiative "Volunteer Globally" with the initiative now covering Malawi in addition to Cambodia, Nepal and Senegal. Dubai Cares' Volunteer Globally comprises a weeklong mission to set the foundation for a school alongside local communities, whereby volunteers assist in digging, picking, mixing concrete and making bricks. Volunteers also immerse themselves in the local culture, interacting with families, learning local values, and forming positive relationships with the local population.
Commenting on this year's edition in Malawi, Abdulla Ahmed Alshehhi, Chief Operating Officer at Dubai Cares, said: "Volunteer Globally has had a tremendous impact on children, their families in remote communities in Cambodia, Nepal and Senegal, and has been increasing in popularity among UAE volunteers who want to leave their mark elsewhere around the world. As one of the main pillars of Dubai Cares' community outreach, we are committed to expanding this initiative to new parts of the world so it can benefit as many children and young people as possible. We are thrilled about delivering a new volunteering experience and exposing our volunteers to a new culture in 2019. Volunteer Globally is a truly life-changing initiative for everyone involved, and I encourage everyone to apply."
Interested volunteers, aged 21 years and above, can submit their application by visiting www.volunteers.ae before February 28th, 2019. Applicants will be shortlisted based on the responses provided in the application, with priority given to volunteers who register first. The 50 shortlisted applicants will be invited to participate in one-on-one interviews between March 10 and 12, 2019. Following the interview process, Dubai Cares will select 15 volunteers who will participate in Volunteer Globally 2019 in Malawi between June 9 and 15.
Once confirmed, the 15 selected volunteers will attend two briefing sessions on the country's socio-economic background and the full extent of the mission, from the nature of activities to safety and security measures. Dubai Cares will cover the cost of the trip, including flights, visa fees, hotel accommodation, meals as well as the cost of building the school.
The Southeast African country of Malawi has been consistently ranked among the world's 20 least developed countries on the UN's Human Development Index. Penalized by economic stagnation and a lack of access to education, more than half of the population lives below the poverty line and a quarter lives in extreme poverty, according to recent IMF reports.
Home
>>
Government, Legal & Humanity Section