Home
>>
Automobile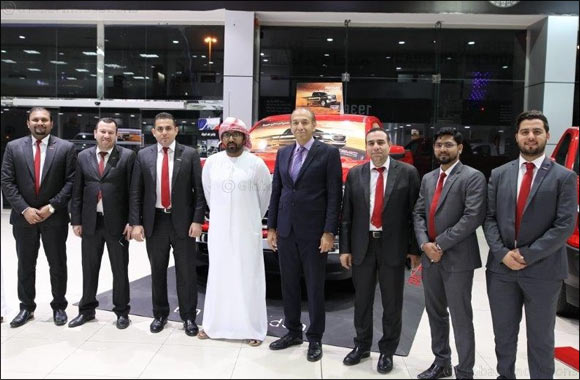 GMC Bin Hamoodah Auto concludes 2018 with Sierra sales record
Sales campaign saw a lucky customer enjoy double the joy with a second Sierra as a prize
February 24, 2019 - Abu Dhabi. GMC Bin Hamoodah Auto – the official dealer of the premium American auto brand in the emirate of Abu Dhabi has achieved record sales of the Sierra model with the premium lightweight pickup truck representing half of the total sales in the final quarter of 2018.
The success of GMC Sierra was bolstered by a nationwide prize draw that gave customers a chance to win a second Sierra when purchasing a Sierra during the sales period.
Held until 31st December 2018, the Sierra sales festival saw lucky winner Ghanem Obeid Al Qamzi from Al Ain win a brand-new Sierra after purchasing his first Sierra earlier in the quarter. The announcement was recently made at GMC showroom in Abu Dhabi following a draw that was attended and supervised by an official representative from Abu Dhabi Department of Economic Development (ADDED) and Abdallah Saba, Sales and Marketing Director for GMC at Bin Hamoodah Auto.
Presenting the Sierra prize to the new owner of Sierra, Abdallah Saba, Sales and Marketing Director for GMC at Bin Hamoodah Auto, said, "It is exciting to witness such a high level of interest from UAE customers in GMC's best-selling lightweight truck. When it comes to reliability, refinement in design and engineering excellence, Sierra has it all. Thanks to Abu Dhabi's Department of Economic Development, we've had the privilege to hand over the keys to a brand-new Sierra to Mr Qazmi who can now enjoy double the Sierra experience."
GMC and its expertly crafted trucks have a long legacy in the UAE. Entering its tenth decade in the UAE, loyalty to GMC as a brand and Sierra as a reliable truck has been embedded within Emirati culture for generations.
Home
>>
Automobile Section