Home
>>
Government, Legal & Humanity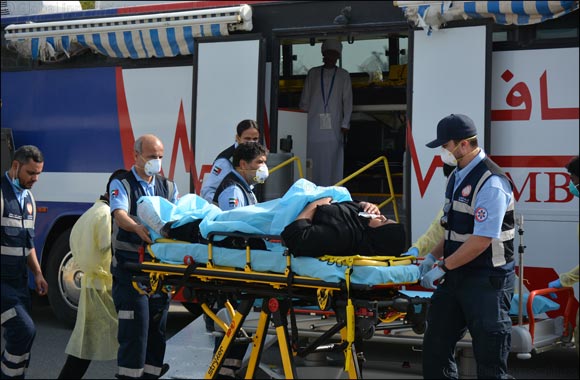 Abu Dhabi Health Services Company (SEHA) Successfully Completes Emergency Drill
"Readiness 2019 Exercise," is the first of its kind emergency drill run in association with Department of Health - Abu Dhabi
Abu Dhabi, United Arab Emirates February 25, 2018: Abu Dhabi Health Services Company (SEHA) in accordance with the Department of Health conducted a "Readiness 2019 Exercise" today with the ultimate objective of assessing the emergency response and business continuity plans of its facilities. The drill was successful and proved SEHA's readiness in crises.
"Readiness 2019 Exercise" is the first of its kind to take place in the UAE and involved all of SEHA's health service providers around Abu Dhabi. The scenario revolved around an outbreak that required the activation of all emergency response levels based on a lead agency request. The gravity of these escalating events required a major response throughout different regions of Abu Dhabi which triggered emergency operations plans. The drill was successfully completed within the allotted timeframe.
Rashed Saif Al Qubaisi, Group Deputy CEO said, "SEHA and its medical facilities adopt many programs and initiatives for building high resilience levels in dealing with emergencies and crises to ensure business continuity during all potential challenges. These emergency and crises plans are all based on scientific analysis and are in line with our goal to lead integrated outstanding healthcare services with the highest international quality and safety standards. The plans feature the mechanisms for dealing with mass causalities and the anticipated increase of services amongst hospital and healthcare centers. Our medical, technical and administrative staff have all proved their readiness to face these emergency cases."
The mock drill has seen the participation of all healthcare providers and departments and was very successful. The innovative and technological solutions introduced by SEHA were efficient in providing excellent healthcare services to the infectious cases during the exercise.
The drill demonstrated the professionalism and care of the staff that worked in full coordination and harmony, and the success of the crisis management plans that were developed.
Dr. Marwan Al Kaabi, SEHA Group Readiness and Business Continuity Director said, "SEHA is very keen on ensuring all its facilities and medical, technical and administrative teams are highly prepared for facing emergencies and crises cases. We have a comprehensive program to assess readiness that includes planned and non-planned discussion based on field exercises. The implementation of this drill for the first time in the UAE has proved the importance of these plans."
The SEHA Readiness and Business Continuity Department plays a pivotal role in the development of these to ensure the readiness of SEHA's medical facilities in potential challenges and emergencies. The department has a round the clock operation command and control center that supports SEHA's daily operations.
The exercise was supported by a large number of SEHA's strategic stakeholders from the public and private sectors as well as academia. Two hundred volunteers took part in the exercise as actors simulating patients who suffer from respiratory symptoms and have been rushed to SEHA's emergency departments where the medical and technical teams provided them with the required medical treatment.
Home
>>
Government, Legal & Humanity Section