Home
>>
Education & Training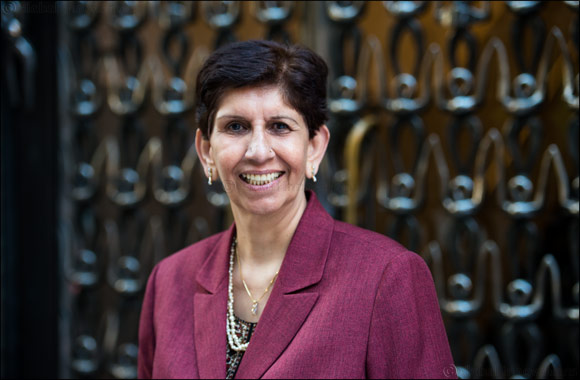 Dwight School Dubai's Jaya Bhavnani, Wins Outstanding Contribution in Education Award at GESS 2019
March 03, 2019 - Dubai, UAE
Dwight School Dubai is delighted to announce that Jaya Bhavnani, MYP Coordinator at Dwight School Dubai and Executive Director of Dwight Global Online School, has been awarded the Outstanding Contribution in Education Award at GESS 2019.
Ms. Bhavnani joined Dwight in 2010, and has been part of the founding team at the Dubai campus, which opened in September 2018. She was instrumental in founding the Dwight Global Online School with Chancellor Stephen Spahn in 2014 and works closely with all Dwight Schools to ensure that Dwight's online program meets the standards of excellence for which the school is known and helps ignite the spark of genius in every student.
Together with her colleagues at Dwight School Dubai Ms. Bhavnani is part of spearheading the school's Rahhal proposal submitted to the KHDA that has recently received official licensing recognition by H.H. Sheikh Mohammed bin Rashid Al Maktoum. As a consequence Dwight School Dubai is the only school that has an official licence to create innovative blended and online learning programs for students in the UAE.
Janecke Aarnaes, Head of School, Dwight School Dubai said: "We are incredibly proud of Jaya Bhavnani's many achievements in disrupting traditional learning. She is an inspiration to the school and the students. She truly deserves this recognition for constantly going above and beyond for the individual student."
Ms. Bhavnani came to Dwight with extensive experience in international education in public and private schools spanning across three continents. She has been actively involved with the International Baccalaureate as a Workshop Leader, Site Evaluator, Consultant, Examiner and Curriculum Reviewer. She is the Lead Facilitator for the Group 5 and Continuum Online Workshops in the Diploma Program. She serves on the Evaluation Team for the CIS (Council for International Schools) and has served as a frequent guest contributor for professional development and curriculum alignment and review. She holds a BS in Education and Physics and a MS in Mathematics. She has an interest for learning languages and internationalism. A passionate educator, Ms. Bhavnani firmly believes in the power of lifelong learning.
Home
>>
Education & Training Section