Home
>>
Entertainment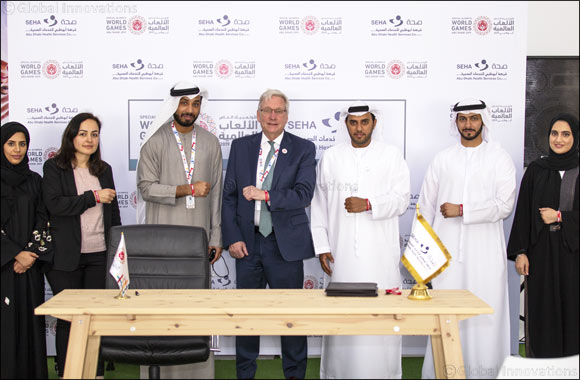 Abu Dhabi Health Services Company (SEHA) to provide healthcare services to Special Olympics World Games Abu Dhabi 2019 participants
Highly qualified medical teams to be deployed across all event venues.
ABU DHABI, March 5, 2019: Abu Dhabi Health Services Company (SEHA) and the Higher Committee of the Special Olympics World Games Abu Dhabi 2019 signed an agreement today to provide healthcare services to participants throughout the duration of the event. The championship will take place from March 14 to 21 under the patronage of His Highness Sheikh Mohammed bin Zayed Al Nahyan, Abu Dhabi Crown Price and Deputy Commander of the UAE Armed Forces.
The agreement was signed by Rashed Al Qubaisi, SEHA Group Deputy Chief Executive Officer, and Rashed Abdulla, Chief Commercial Officer of the Abu Dhabi Olympic Games 2019. It states that SEHA will provide highly qualified administrative and medical teams, including consultants, specialist doctors, nurses, physiotherapists and nutritionists to serve the athletes and delegates taking part in this international event.
Rashed Al Qubaisi, SEHA Group Deputy Chief Executive Officer highlighted SEHA keenness on providing high quality health services as per the international standards to customers of its healthcare providers located across the Emirate of Abu Dhabi.
"We are very proud to partner with this prestigious international event that take place in Abu Dhabi, the capital of humanitarian work that pay special care to all social segments," he said.
Our specialized teams and facilities will provide high quality healthcare services to the people with intellectual disabilities who will be taking place in the championship, he said.
Dr. Marwan Al Kaabi, Group Readiness and Business Continuity Director said, "Our team of highly trained healthcare experts are prepared to provide the best services during the Special Olympics World Games. SEHA has previously proven its ability to provide world-class healthcare solutions and services at major events such as IDEX & NAVDEX 2019. The Special Olympics World Games, held during the Year of Tolerance, is a prime example of how Abu Dhabi entities unite to ensure the inclusion of all. We are proud to be a part of an event that calls to action the importance of acceptance and celebrates diversity."
As per the agreement, SEHA will also provide numerous ambulances with state-of-the-art medical equipment that will be deployed across all associated event venues organized by the committee.
Rashed Abdulla, Chief Commercial Officer for Special Olympics World Games Abu Dhabi 2019 said, "The Memorandum of Understanding with SEHA Abu Dhabi Health Services will enhance our efforts to provide the best healthcare services to all of the athletes participating in the World Games. This agreement was the outcome of both parties' cooperation and commitment to mobilizing all available resources to achieve focused, innovative and relevant interventions. This partnership will help us leverage long term change across the UAE improving the healthcare system for the benefit of People of Determination, leaving a legacy of the Games long after the closing ceremony."
Home
>>
Entertainment Section