Home
>>
Education & Training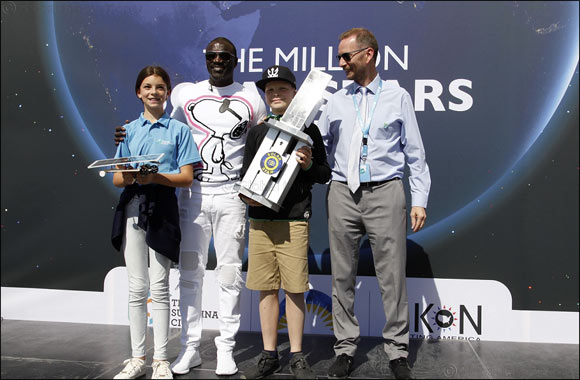 The Sustainable City Dubai hosted the Million Solar Stars Challenge in partnership with Akon Lighting America
World-renowned entrepreneur, philanthropist and superstar, Akon, visited TSC for the International Jr. Solar Sprint & Million Solar Stars Challenge
Dubai, United Arab Emirates, 5th March 2019: It was race-time atop the roof of Fairgreen International School in The Sustainable City, Dubai, with solar model cars vrooming ahead under the bright Dubai sun as part of the 2nd International Solar Print, under the Million Solar Stars Challenge (MSS Challenge). Watching all the action come to life was none other than the world-renowned entrepreneur, philanthropist and superstar, Akon, who arrived at The Sustainable City to champion his passion to power the world and bring light and hope to millions by harnessing solar energy.
As part of the MSS Challenge, an initiative to engage 1 million students in the process of scaling up solar power at 100% schools around the world, students created solar model cars to race at the International Jr. Solar Sprint that demonstrates the value of solar energy in a fun, competitive and scalable manner.
Out of the 35 young innovators from the Fairgreen International School in Dubai who competed, the first place was won by 'Flame Riders' –Starla and Aaron from grade 6 with a race time of 8.97 secs.
Akon the founder of Akon Lighting America commented: 'The success of the 2nd International Jr. Solar Sprint reflects the passionate involvement of young student innovators to make the world a better place to live in by harnessing the true potential of solar power. With our mission to bring electricity to homes and communities across the world, the event in The Sustainable City, Dubai, reaffirms our faith in the potential of young people to make a positive difference."
The Challenge is inspired by the National Renewable Energy Lab (NREL) Model Car Competitions for generating enthusiasm for science, technology, engineering, and math (STEM), improving students' understanding of scientific concepts and renewable energy technologies, and encouraging young people to consider technical careers at an early age, the International Jr. Solar Sprint winners get coveted prizes.
Mélodie Carli, President of Akon Lighting America, said: 'We are proud to be sponsoring this prestigious event. ALA enjoys a robust expertise in renewable energy and the MSS Challenge is an inspiring initiative that enlightens students and exposes them to the importance of harnessing solar energy. We look forward to involving ourselves in future projects and in witnessing the green transformation of Dubai through establishments like the Sustainable City.'
In line with its mission to promote social sustainability alongside environmental and economic sustainability, The Sustainable City supports its community and enhances the lives of its residents with a variety of activities, educational events, and academic outreach and exchange programmes throughout the year.
Home
>>
Education & Training Section