Home
>>
Entertainment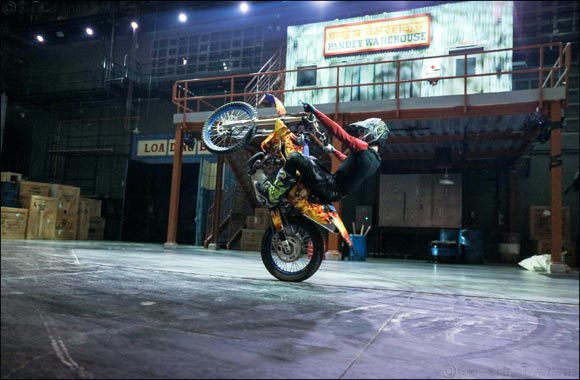 Ultimate Dabangg Stunt Show returns with thrilling new performances at BOLLYWOOD PARKS™ Dubai
Experience the blockbuster action-packed indoor stunt and dance show
Dubai, UAE, 17 March 2019: BOLLYWOOD PARKS™ Dubai, the premier Bollywood-themed park that is part of Dubai Parks and Resorts, the largest integrated theme park destination in the region, has re-launched its hugely popular hit live show 'Dabangg: Stunt Spectacular' with more drama and action, themed around the Bollywood mega hit movie Dabangg.
Organised in a Bollywood-themed cinematic setting, the show features live stunts, explosions and dramatic song and dance sequences as Salman Khan's famous character Police officer Chulbul Pandey risks everything to save the love of his life, Rajo. This power packed 22 minutes show will take the spectators on an adventure three times every day.
The Dabangg stunt show is part of the BOLLYWOOD PARKS™ Dubai's Rustic Ravine zone which includes several Bollywood cinema-themed rides and attractions. The cost of the show is covered in the general ticket price of AED 99.
BOLLYWOOD PARKS™ Dubai, the world's first and only Bollywood-themed attraction, features some of the greatest Bollywood blockbusters. Guests will get the chance to meet favourite movie star look-a-likes such as Shah Rukh Khan or Amitabh Bachchan. The park has also a line-up of street performances filled with energetic music, song and dance, which are showcased every day.
Home
>>
Entertainment Section