Home
>>
Entertainment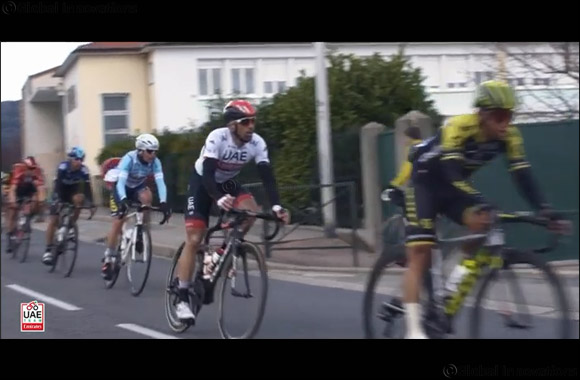 UAE Team Emirates Opts for Power as Gaviria and Kristoff Top Line-up for Milan-Sanremo
Dubai, UAE, March 21, 2019: UAE Team Emirates will take on the first 'monument' of the season this weekend as the team heads to Italy for the iconic Milan-Sanremo (23 March).
With a colossal 291km race ahead, the Emirati formation has opted for power duo, Fernando Gaviria and Alexander Kristoff to lead the charge. Gaviria makes his return to this race for the first time since 2017, where the young Colombian picked up a top five finish; crossing the line alongside his now team mate. Gaviria will hope to have a spring in his step, coming off the back off a blistering start to life in his new team's colours. Kristoff on the other hand is somewhat a veteran of this race. The Norwegians expertise and experience has seen the 31-year-old secure top 10 finishes in each of his last six appearances here, including the race victory in 2014. Supporting the team will be Diego Ulissi, Marco Marcato, Oliviero Troia, Sven Erik Bystrom and Jasper Philipsen.
The race – now in its 110th edition – is the longest on the UCI WorldTour, with the peloton expected to be at the saddle for up to seven hours. The opening 100km will see riders head out of Milan towards the Mediterranean coast, on what are predominantly flat roads. It isn't until after 100km that we see something of a climb; the Passo del Turchino has a gradual incline that peaks at 142km. Following the descent, the riders have approximately 90km back on the flat before the race really starts to hot up. There are five short but sharp climbs in the final 55km, each providing their own unique test. Historically, the first three climbs don't have a significant impact on the race, but it's the final two where the group starts to split. Whilst the race is typically contested in a sprint finish by a reduced peloton, there is the off-chance one rider could look to breakaway over the final climb and, if in good shape, hold on to take the race win. One thing is for certain, thousands of spectators will be in for an emphatic day of racing.
Commenting ahead of the race, Fernando Gaviria said: "It feels good to be back here with new team mates, and with a really positive feeling. I had bad luck in 2016, crashing in the final kilometre, and in 2017 I wasn't able to make it to the finish as part of the small lead group. But I'm back and hoping it will be third time lucky."
Home
>>
Entertainment Section