Home
>>
Entertainment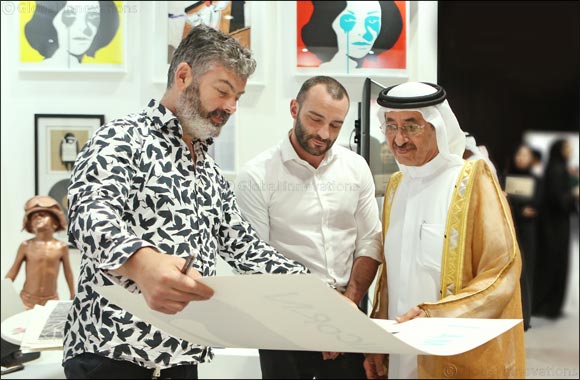 H.H. Sheikh Hasher Bin Maktoum Al Maktoum Opens World Art Dubai
The region's largest accessible and affordable art fair features more than 3,000 pieces from 30 countries
Fair's fifth season runs at Dubai World Trade Centre until Saturday 6th April
Dubai, United Arab Emirates: 04 April, 2019: His Highness Sheikh Hasher Bin Maktoum Al Maktoum, Director General of the Dubai Department of Information formally opened World Art Dubai 2019 at Dubai World Trade Centre (DWTC) today, leading a delegation of officials and high-profile members of the local and global art community around the fifth instalment of the region's leading accessible and affordable art fair.
With more than 3,000 pieces of art from 150-plus artists and galleries on display, H.H Sheikh Hasher Bin Maktoum Al Maktoum was accompanied by H.E. Helal Saeed Almarri, Director General, Dubai World Trade Centre Authority and Dubai Department of Tourism and Commerce Marketing. His Highness toured a stunning collection of the original contemporary artworks, paintings, sculptures, digital photographs, custom-made works, installations and more at World Art Dubai 2019, a core pillar in this year's Dubai Art Season. The fair runs until Saturday 6, April.
Trixie LohMirmand, Senior Vice President, Exhibitions & Events Management at DWTC, said: "World Art Dubai is hosting artists from more than 30 countries this year, providing visitors with a global and diverse range of works across all budget levels. The show continues to attract first-time art shoppers, corporate buyers and expert collectors, while our expanded schedule of educational workshops and talks to allow visitors to engage and learn."
A Global Stage for Emerging Talent and Artists From Across Five Continents
The global appeal of World Art Dubai 2019 has drawn debut artists and galleries from multiple new territories, including Chile, Myanmar, Argentina, Italy, Taiwan, Turkmenistan, Mexico, Belarus and Gabon.
As well as attracting established international talent, World Art Dubai has established itself as a key platform for emerging artists looking to launch their careers. Looking to harness this further, World Art Dubai has partnered with Rove Hotels for the inaugural World Art Dubai Emerging Artists Competition & Exhibition.
Held under the theme 'My Culture. My Community. My Neighbourhood', the competition has shortlisted 10 finalists from more than 300 entries. Two artists will be selected to win further accolades on the final day of the show. One artist, selected by curators, will be offered free exhibition space at World Art Dubai 2020.
The second artist, voted for by World Art Dubai visitors, will be awarded a Rove Hotels stay.
Art To Fit Every Budget
In addition to new launches and features, World Art Dubai will be bringing back key areas and activities that have proven a hit with visitors. Returning to the show in 2019 is the popular Art for Every Wall segment, which showcases a curated collection of pieces from across the world with price tags all under AED3,000. The fair's most affordable artwork provides visitors with the opportunity to pick up their first piece of original and diverse art.
Making an Artistic Stance
Looking to make a key statement during World Art Dubai, Standard Chartered has commissioned a special exhibition of works by a collective of UAE-based female artists with the aim of rallying support to secure gender pay parity throughout the art world and beyond.
Citing a recent University of Oxford Business School study which revealed works by female artists sell at auction for 47.6% less than works by their male counterparts, the chosen artists will leave 47.6% of their work unfinished in order to make a powerful statement on the inequality of gender pay in the art world.
World Art Dubai will again roll out a spectrum of engaging talks, interactive workshops and exploratory sessions on a wealth of topics to engage all levels of artists. From Photography walks around the show floor and speed painting demonstrations, to calligraphy workshops and trainings on all things graffiti, visitors are advised to register through www.worldartdubai.com/whats-on-at-wad.
Entry to World Art Dubai is AED25 for a daily pass when purchased on site at DWTC's Sheikh Saeed Halls 2 and 3. The show is open from 2-9pm on Wednesday 3 April and 1-9pm from Thursday 4 April – Saturday 6 April.
Home
>>
Entertainment Section