Home
>>
Entertainment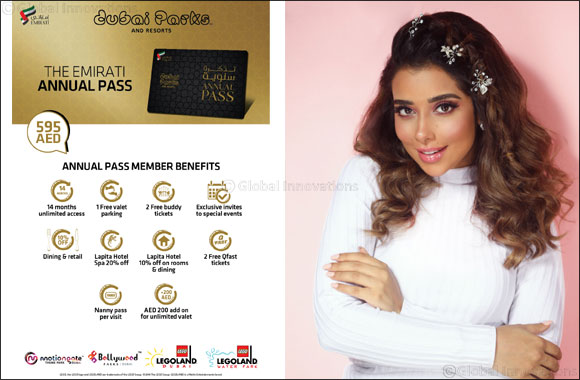 Dubai Parks and Resorts launches personalized annual pass for UAE nationals available exclusively for purchase on April 19th
Live performance by renowned Emirati singer, Balqees Fathi, to celebrate the launch of Dubai Parks and Resorts' new Emirati Pass!
Dubai Parks and Resorts is welcoming UAE nationals for a fun-filled day of music, food and entertainment for the whole family
Dubai, 9 April 2019: Dubai Parks and Resorts, the largest integrated theme park destination in the region, is introducing a brand new annual pass exclusively for UAE nationals, priced at AED 595, which will be available to purchase on-site only on April 19th.
The Emirati annual pass will be valid for 14 months and will provide entry to all four of Dubai Parks and Resorts' amazing theme parks. This includes MOTIONGATE™ Dubai, the region's largest immersive Hollywood-inspired theme park with indoor roller coasters, family rides, shows and play zones; BOLLYWOOD PARKS™ Dubai, the world's first and only Bollywood-themed attraction dedicated to Bollywood fans; LEGOLAND® Dubai, a unique, interactive theme park for families which brings the well-known LEGO® brick to life in a playful learning environment; and LEGOLAND® Water Park, the region's first water park catering to families with children aged 2-12.
Emirati annual pass holders will also be able to enjoy access to Riverland ™ Dubai, the free-to-enter themed recreational hub with a multitude of dining, shopping and unique entertainment options. Other pass benefits include free entry for nannies, access to our Q-Fast express queuing lanes, valet parking services, and 10 percent off on all dining and Lapita™ Hotel. Guests can also enjoy unlimited valet parking for AED 200 over 14 months.
Mohamed Almulla, CEO and Managing Director, DXB Entertainments, the company that owns Dubai Parks and Resorts said: "Over 100 nationalities have visited Dubai Parks and Resorts to date and we take pride in creating a calendar of events that celebrates this wonderful diversity. We are now turning our attention to our UAE national visitors with a bespoke annual pass developed with their social and cultural preferences in mind. We are excited and looking forward to them experiencing the largest integrated theme park destination in the region."
To celebrate the launch of the Emirati annual pass, Dubai Parks and Resorts is inviting UAE nationals to come and watch Emirati singer, Balqees Fathi, performing at the first-of-its-kind concert on April 19th at 8.30pm in front of the beautiful Raj Mahal theatre located at BOLLYWOOD PARKS™ Dubai. The special day will also be packed with lively Instagrammable parades, fun family rides and roller-coasters, an abundance of food experiences, and opportunities to meet your favourite animated Hollywood characters like Kung-Fu Panda, Shrek, the Smurfs, and the cast of Madagascar.
In addition, the streets at Riverland™ Dubai will come alive with traditional Emirati music, food and entertainment. There will also be a parade with stilt walkers, jugglers and entertainers dressed in the colours of the UAE flag, and kids can discover traditional arts and crafts through activities like face painting and henna artists. The celebratory activities will begin at 10am.
To enter, UAE nationals will be asked to present their identification card at the gate and pay AED 50 per person to access this day-long special event. All Dubai Parks and Resorts Annual Pass holders and guests will still be able to join the celebrations and all enjoy rides and attractions at standard rates.
Home
>>
Entertainment Section