Home
>>
Real Estate & Retail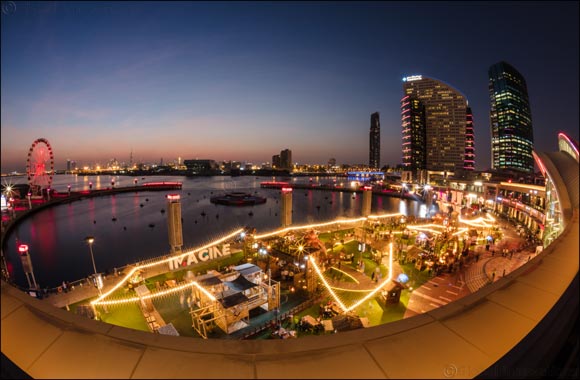 Catch the free two-time Guinness World Record attraction IMAGINE as it lights up Festival Bay with brand new story 'A Pirates Tale'
The largest water screen projection in the world set to thrill thousands of visitors at Dubai Festival City Mall with its enchanting new story – A Pirates Tale
Dubai, UAE, April 9, 2019: Dubai Festival City Mall is inviting visitors to end a day's shopping and experience IMAGINE – its free, must-see, multi-media, entertainment spectacular at Festival Bay. A symbol of Dubai Festival City Mall's commitment to offering its shoppers a full retailtainment experience, IMAGINE plays out a story curated around an artistic theme to spark the audience's imagination in the form of A Pirates Tale. Completely complimentary, the globally renowned landmark attraction, which plays out a magical 360-degree story across the waterfront using light, fire and water, is a highlight for families visiting the mall – and is one not to be missed.
From being held hostage to returning the King of the Sea's emerald ring, the story will be told through pyrotechnics, lasers and more as audiences watch the events unfold through the largest permanent projection in the world.
"IMAGINE is where visitors can come together to watch and interact with one of the most thrilling shows in the Middle East. It was created to offer shoppers a one-of-a-kind experience – and is a must-see attraction. It's a truly unforgettable experience and is part of what makes visiting Dubai Festival City Mall so unique," said Steven Cleaver, Director, Shopping Centres Dubai, Al-Futtaim Malls.
A play zone has also been set up for kids to live the pirate story with a giant ship, life-size octopus, jungle gym, sandy beach-style area and more. The daily shows are free to attend and run all throughout the year, with the first show commencing at 7pm each night. Guests can also visit over 20 restaurants at Festival Bay, including Al Fanar, Big Fernand, Buca di Beppo, California Pizza Kitchencan and Chili's, many of which feature world-class waterfront dining, with the best views of the show, as well as breathtaking sunsets of the Dubai skyline.
Home
>>
Real Estate & Retail Section