Home
>>
Events & Exhibitions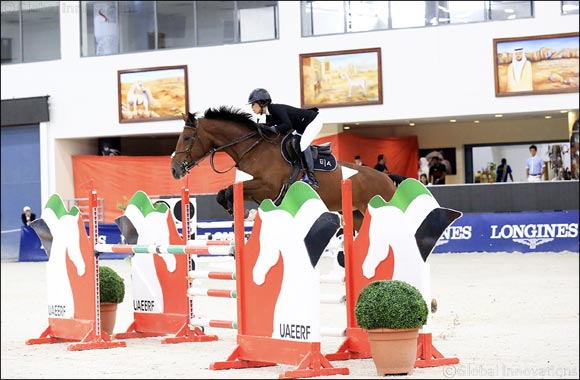 Show Jumping Season to Come to an End after 17 Weeks with Emirates Longines Final in Sharjah
Under the supervision of the UAE Equestrian and Racing Federation (UAEERF), the three-day event will be held at the Sharjah Equestrian & Racing Club
Dubai, United Arab Emirates - April 25, 2019: This weekend marks the last show in the UAE's show jumping calendar from Thursday, April 25th to Saturday, April 27th. The eighth edition of the Emirates Longines Final is set to take place in the indoor arena of the Sharjah Equestrian & Racing Club and will push riders of all ages and skill sets to demonstrate their skills one last time before the season's end. The new season of the Emirates Longines Show Jumping League will pick back up in September 2019.
Held under the supervision of the UAE Equestrian and Racing Federation (UAEERF) and sponsored by Longines – the Official Timekeeper and Sponsor of the Emirates Longines Show Jumping League competitions – the three-day event will feature two classes for every category. Children and Novices are set to go over 110cm and 115cm fences respectively with Division 2 riders competing over jumps set to a maximum height of 125m. Juniors will be jumping a maximum height of 130cm with Division 1 riders jumping the highest fences in the show, set at 140cm.
The Emirates Longines Final 2019 will feature 10 classes: three classes each of One Round Against the Clock and Competition Over Two Rounds for Juniors, Division 1 and Division 2 riders respectively as well as two classes each of One Round Not Against the Clock and One Round with Jump-off for both Children and Novices. All riders will be competing for their share of a prize purse of AED 281,000.
The competitions will be supervised by Hussam Zummit, who represents the UAEERF, with the ground jury headed by Lisa Hareb, with assistance from other jury members. The course for this final national was designed by International course designer, Marc Debaere, with the help of other course designers.
For more information on the Emirates Longines Show Jumping League or to learn about upcoming shows, please visit www.emiratesequestrian.com or call the UAEERF Jumping Department on 02 666 1800 between 9am - 4pm.
Home
>>
Events & Exhibitions Section