Home
>>
Automobile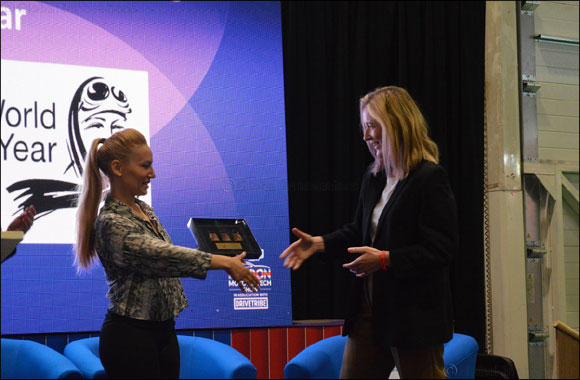 Jaguar Land Rover's Fiona Pargeter Recognised as Inaugural 'woman of Worth' 2018
Customer Experience Director awarded accolade at the London Motor Show by Women's World Car of the Year panel
Fiona has had a career spanning 20 years in the automotive industry
E-PACE and I-PACE both finished in the Top Three for Women's World Car of the Year

Dubai, United Arab Emirates - May 19, 2019: Fiona Pargeter, Jaguar Land Rover Customer Experience Director, has been recognised by the Women's World Car of the Year Awards as their first ever 'Woman of Worth' for 2018 at the London Motor Show.
Fiona was presented with the award by managing director of the Women's World Car of the Year Awards, Sandy Myhre, alongside members of the jury from Spain, Portugal, Greece, UAE, Germany, New Zealand, England & Scotland
Formerly Jaguar Land Rover's Global PR Communications Director, Fiona has taken on the role of Customer Experience Director, with added responsibility for all marketing communications such as social media, advertising and experiential marketing.
Fiona has championed the participation of women throughout the automotive industry, in a career that has spanned over 20 years with Ford, Volvo and Nissan, before joining Jaguar Land Rover in 2009.
Fiona said: "It's with immense pride and gratitude that I accept this award. Women continue to make their mark on the automotive industry and the Women's World Car of the Year Award is just another example of this.
"Many women are doing some amazing work in automotive and its important there is visibility of this to inspire future generations, as all women have a responsibility to do so. I want to extend my thanks to Sandy Myhre and the rest of the judges for the award and the rest of the sterling work they are doing in putting women on the automotive map."

Sandy Myhre, the founder of the Women's World Car of the Year, praised Jaguar Land Rover for supporting the awards since their inception in 2009.
She said: "The first car to win our Supreme Award in 2009 was the Jaguar XK and that year the company sent women executives to our first presentation in Knightsbridge in London.
"The F-PACE won the award in 2016 and the company made history with a press conference to mark the occasion. It was the first time since the motor car was invented that 11 women motoring writers had been together in the same room at the same time.
"Fiona made that possible and she is exemplary as a role model for women in the automotive industry all over the world."
The award was made in New Zealand and consisted of three woven flax baskets, known as kete in Maori, representing knowledge, empathy and wisdom.
The judging panel for the 2018 Women's World Car of the Year awards consists of 34 women motoring journalists from 27 countries. By December 2018 that will increase to 36 journalists from 28 countries with more to be added throughout 2019.
The Jaguar E-PACE and Jaguar I-PACE were listed in the top three for the Women's World Car of the Year Award 2018.
Home
>>
Automobile Section