Home
>>
Home, Furniture and Interiors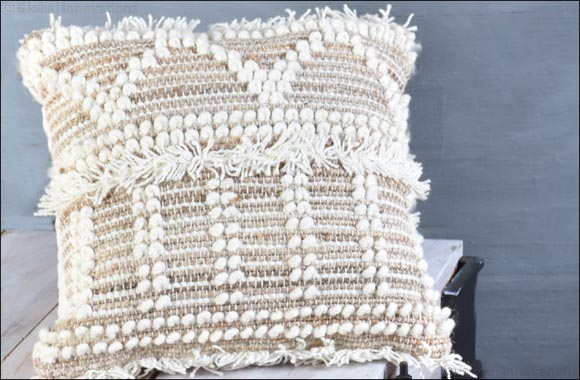 **Decor with an ethnic flare to change the aesthetic of any room**
May 21, 2019 - Dubai, UAE
Cushions, rugs and poufs can have a massive impact on the aesthetic of any room. They add a personal stamp on any room decor allowing to make the overall look cohesive. Transforming your living room into a sanctuary is all about channeling an environment that inspires and calms you and with these neutral decorative pieces one will be able to do so. So whether you wish to make your home even cosier or you feel like changing things up a bit, Home and Soul Dubai offers a new range of cushions, poufs and rugs that are a perfect way to transform a tired interior.
Here are a few elegant items that can help spruce up any room:
Add a Pouf for that traditional charm:
Poufs act as the the ideal versatile accent piece of any home, with its dual use. They're the perfect perch for your feet after a long day and are a handy textured ensemble that can add depth to any seating area. The Merzouga Pouf (AED 495) available at Home and Soul, can change the aesthetic of any room.
A natural cushion add form to any seating area:
Ethnic cushion covers ooze charm and add sheer elegance to any sofa overall contributing to the warmth to any room. With traditionally used handloom and weaving techniques, these cushions give that wow factor in a subtle manner. The Casablanca Constanza Pillow(AED 250) with its textured & beaded embellishments is available at Home and Soul.
A rug can make a vibrant centerpiece:
Rugs anchor a room and layer a room's decor. This grey Ourzazate rug from Home and Soul will help to harmonize any room, giving the space a cohesive unity. A rug will help bring warmth to the space, leaving it vibrant. The Ourzazate(AED 3,200) available at Home and Soul, can spruce up any room with its modern yet symmetrical patterns.
Home and Soul is situated on Al Wasl Road, Villa 6, Dubai, between Um Al Shief and Al Manara, you can browse and buy online at www.homeandsouldubai.com
Home
>>
Home, Furniture and Interiors Section