Home
>>
Technology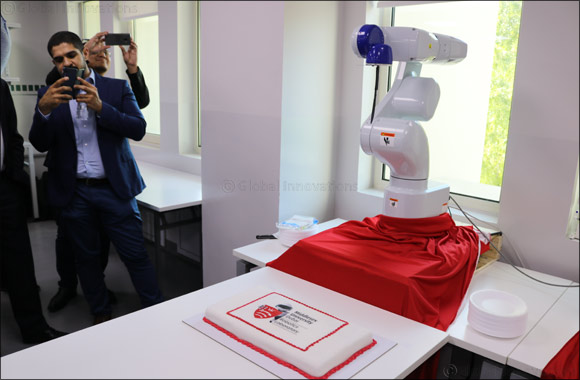 Epson supports robotics research at Middlesex University Dubai
Dubai, United Arab Emirates - 12 June 2019: Global technology firm Epson has partnered with Middlesex University Dubai's newly opened Robotics Laboratory to provide students with training, workshops and a newly devised programme of collaborative research in robotics. Epson also equips the laboratory with several Epson industrial robots.
Jeroen van Beem, director of sales, Epson MEA, says: "The aim of our partnership is to make robotics more accessible to students, and to foster research. This is also in line with the UAE Government initiatives to encourage research and applications of innovative solutions in artificial intelligence and robotics.
We look forward to our partnership with Middlesex University Dubai which will inspire students to pursue a career in robotics that is increasingly playing an important role in manufacturing, and other industries, including driverless cars, unmanned air vehicles (UAVs), 3D printers, and many more. We will work alongside students from the University to grow and develop their skills to contribute to this growing sector."
Middlesex University Dubai offers a Master of Science degree in Robotics, and the newly opened Robotics Laboratory will help students to take a leading role in the research and development of future generations of robotics and artificial intelligence systems.
In his opening remarks during the inauguration of the robotics lab, Dr. Cedwyn Fernandes, pro vice-chancellor and director of Middlesex University Dubai, stated: "Middlesex University Dubai is committed to moving forward in line with the UAE government's directives, providing a significant contribution to society. The official launch of our robotics lab signifies the advances we have made in providing innovative, creative and technical skills to our students."
The partnership with Middlesex University was signed by Abdulnassir Ali, sales manager- visual instruments and professional displays, Epson; and Dr. Cedwyn Fernandes, pro vice-chancellor and director of Middlesex University Dubai. Following the signing by both parties, a ribbon cutting ceremony was held at the Robotics Laboratory, with the cake cutting performed by an Epson VT6 robot.
Students from the University's foundation, undergraduate and postgraduate programmes presented their various robotics projects at the event. Highlights included an autonomous ground robot, tea making robot, balcony plant growing robot, hairdresser robot, multirotor drone and UAV control centre software.
Home
>>
Technology Section