Home
>>
Fashion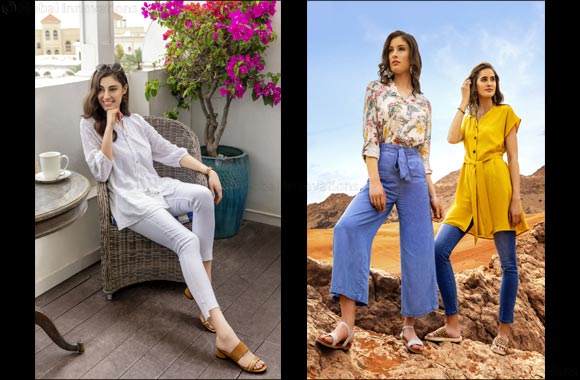 3 Essential Styles You Can't Go Without This Summer'
Get ready to turn up the heat with Max Fashion's Femme Utility, Vacay Vibes and Summer Dreamer collections
Dubai, United Arab Emirates - 19 June 2019: Summer 2019 is here, which means it is time to seek out the latest trends and styles to get you through the warmer months. To help you capture the latest summer fashion styles – while still managing to find great value – Max Fashion has highlighted three season-inspired trends to help you get your wardrobe looking fresh.
1. Femme Meets Utility:
Practical designs are making a splash this summer, with fashionable and functional boiler suits beginning to grace those looking to enjoy an easy, breezy look while remaining bold. Paired with a return to femininity, Max's Femme Utility designs are the ultimate statement pieces to wear as summer draws near.
Showcasing summer vibes and styles, Utility meets Femme with palazzo pants and statement blouses, bringing together the best of beautiful floral and blue tones, while adding a complimentary palette to your attire. With mustard, olive green, rose and striped colors and patterns alongside earthy accessories – such as cross body bags, tote bags, tinted sunglasses and statement earrings – you can embrace an extra bold feminine appeal through your summer wardrobe.
Function truly meets fashion in the form of this hot summer trend. So, if you're looking to add a bold dose of femininity to your wardrobe this summer, look no further than Max Fashion's Femme Utility line.
2. Vacation's Calling:
Whether you go on vacation or stay home for summer, this time of year offers an ideal time for kids to let loose with fun summer styles. Providing your young ones a range of bright colors and playful prints is the best way to make summer even more fun and memorable.
For boys, think message tees with soft yellows and ocean blues, as well as denim and cargo shorts, and striped button-down shirts for that cool and laidback vibe to help them slip right in to vacation or summer mode. For girls, casual ruffled playsuits with bright tones, low-key and fun print-laden denim skirts and dresses, and cute statement tees are the ticket to a stylish sun-filled vacation or summer.
3. Summing Dreaming:
For a contemporary twist to your summer style, the Summer Dreamer collection is designed to help you navigate the metropolitan lifestyle with ease while retaining an understated, radiant summer glow.
Offering fresh blue tones, soft pastel blues and crisp whites, Max Fashion's long flowing blouses, airy cut-off dresses, tunics, long skirts and denim additions are perfect for low-key summer activities. The addition of a subtle range of stylish accessories – including tortoiseshell hued earrings, soft blue and earthy-yellow handbags and slip-ons, and a blue-frayed edge white rim hat – will ensure your summer dreams come to life.
So if you are shopping for a fresh, contemporary take on summer fashion, be sure to shop Max Fashion's Summer Dreamer collection!
Home
>>
Fashion Section