Home
>>
Fashion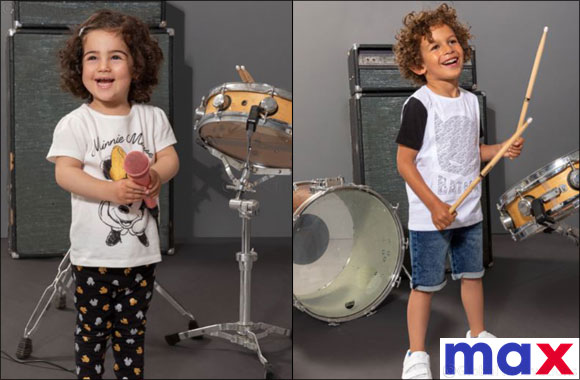 Ride Into the New School Year with the Coolest Gear
Max Fashion launches the first of its back-to-school apparel collections
Dubai, United Arab Emirates - 11 July 2019: Summer vacations are just now in full swing, and the back-to-school season is slowly but surely upon us. The good news? The sooner you shop, the more you will relax as the first day of school approaches.
To help you get your school shopping done early, we've curated some of the best back-to-school looks from Max Fashion's new Back to School collection which features all the characters we know and love.
Make Memorable Moments in School
Dress up as the iconic, friendly Hello Kitty with a heart of gold. There are Hello Kitty character dresses, tops and trousers to help you achieve this famous feline's purr-fect look. What's more, your little Frozen fan will look as cool as ice carrying backpacks featuring Princess Elsa.
On the other hand, Minnie Mouse has been delighting fans all over the world with her fun-loving personality. Stylish, classic, independent and oh-so spirited – she inspires girls to live confidently and express themselves, because living with zest never goes out of style!
In addition to a range of adorable backpacks, the Back to School collection features pleated skirts and cotton dresses as well as jeans and tops in red and black, polka dots and Minnie art. Accessorize the look with a matching Minnie Mouse ears headpiece that is sure to make her standout. Protect your little one's eyes from the sun in style with adorable Minnie Mouse sunglasses and have your kids step with Disney style in fashionable sequined flats.
Jumpstart the School Year in Style
Let your boy embrace his inner super hero this school year with awesome pieces that showcase some of his favorite characters.
Comfortable tees featuring Batman and Avengers will make it easy to get dressed in the morning. Cotton trousers are always a crowd favorite, and a comfortable pair of sneakers can go a long way. Any kid who loves comics will be ecstatic about an Avengers T-shirt. Finish his back-to-school look with a cool Avenger or Batman backpack, and you'll have casual cool nailed.
Choose shirts and shorts that can easily be mixed and matched to create a variety of looks that will keep him looking and feeling his best. Graphic tees are every boy's favorite thing to throw on in the morning. Instead of wearing jeans or khakis, meet in the middle with a pair of denim Bermuda shorts. Not only are they on-trend, but they're also super comfortable and easy to move around in. Add a pair of fresh joggers and a new Batman backpack, and his back-to-school style will be off the charts.
With a brand new collection filled with personality at wallet-friendly prices moms and dads can feel good about, don't be surprised if your little ones come home with some extra superpowers after the first day.
Home
>>
Fashion Section