Home
>>
Home, Furniture and Interiors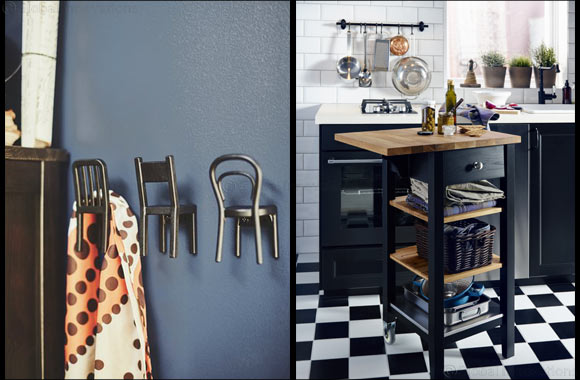 Kitchen Hacks: 8 Clever Ways to Smart Storing
Dubai, United Arab Emirates - 15 July 2019: The kitchen is often referred to as the heart of the home as for many it is the most used room in the house. We all want that pretty kitchen with ample space, neat storage compartments, solutions for produce to remains fresh and for anything and everything to be found with a blink of an eye. The kitchen struggle is real and maintaining an organized kitchen can be a chore.
IKEA is often recognized for it's well-designed, functional yet stylish and affordable solutions that help keep your kitchen clutter-free and make the best out of the space. The Swedish brand presents several innovative but simple solutions to create a better everyday life for the many people.
1. KUNGSFOR Net Bags
In line with its sustainability agenda, IKEA has introduced a replacement to the conventional plastic shopping bags – the KUNGSFOR net bags. Made from cotton, these naturally ventilated bags allow a combination of moisture and air to circulate through, allowing the stored products to breathe and stay fresh longer. Th best way to use these bags is to hang them on the wall and store fruits and vegetables.
2. RISATORP Basket
Why not elevate the visual appearance of your kitchen by using decorative storage solutions? The RISATORP baskets will do just that in addition to storing fruits and vegetables that can survive outside the fridge. It's size and see through wired body make it easy to store yet still get an overview of the stored produce. It can also work as a nifty storage compartment in the hallway, bedroom or home office.
3. FJANTIG Hooks
An easy way to manage clutter without really having to do much is to 'hook it up'. Fix these nifty hooks on the wall and viola! – you can now hang up your essentials and give your room a creative flair.
4. BEKVÄM Stepladder
Most kitchens are equipped with high cabinets and cupboards that although utilize space, are hard to reach for most people. Trying to get a hold of these items often ends in them falling or having to grab a chair to reach. This step ladder not only makes it easier to reach those higher shelves but with its foldable feature, it is also easy to store. Made of solid wood; its hardwearing quality allows the stepladder to last a life-time.
5. STENSTORP Kitchen Trolley
Perfect for extra kitchen storing, this trolley is a kitchen must-have. The trolley gives you more space to unload, serve and stock things and ideal when you're short on worktops when having more than one person in the kitchen. Its warm and rustic look adds depth to the kitchen while its adjustable shelves with groves hold bottles in place.
6. VARIERA Cutlery Tray
Are you constantly rummaging through your kitchen drawers looking for cutlery when guests arrive? This bamboo cutlery tray is another necessity that helps keep your drawers organized while protecting your utensils from scratches.
7. UDDEVALLA Door
What's better than an ordinary kitchen door? A matt black kitchen door that doubles as a chalkboard.
You can write everything from recipes and to-do lists to thought-of-the-days on its foil surface that is impact-resistant and easy to care for and clean.
8. VEBERÖD Room Divider
This multi-purpose mesh wall can be used to hang personal items and decorations – even green climber plants! Each piece has a unique personality marked with blemishes and traces from the production process and are part of the industrial expression. The design screams practicality – it's easy to place, easy to use and easy to match.
Home
>>
Home, Furniture and Interiors Section