Home
>>
Home, Furniture and Interiors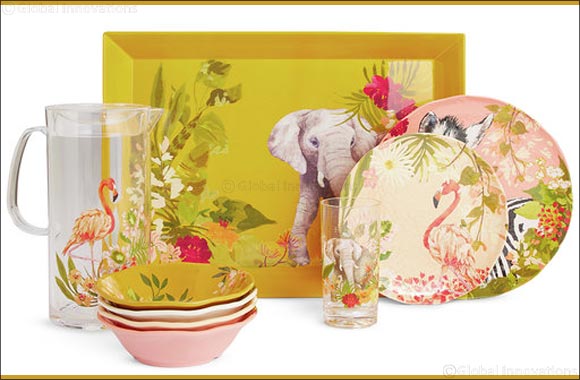 Picnic Indoors This Summer with Marks & Spencer
Dubai, United Arab Emirates - 15 July 2019: It might be hot outside but that's no reason not to enjoy a picnic indoors! And better still, with Marks & Spencer's beautiful animal and ocean inspired picnic range, entertaining family and friends has never been easier. Not only will its fabulous array of items see picnic-lovers through from day to night, but they'll also guarantee a summer of fun. From melamine plates that are almost too pretty to eat off, to cute little hampers for all those nibbles, there's something for everyone.
Marks & Spencer's delicious picnic feast is also a must-have this summer. Inspired by some of Britain's most loved flavours, the brand's crowd-pleasing sandwiches, crunchy salads, creamy dips, mini sweet treats and smoothies are sure to go down a treat.
And of course, no picnic would be complete without sandwiches or wraps – and Marks & Spencer offers a variety of options to cater to all tastes. Having recently launched its new vegan-friendly range – Plant Kitchen, shoppers at Marks & Spencer can now enjoy the delicious Roasted Vegetable & Avocado Sandwich and Sweet Potato Biryani Wrap, packed with nutritious ingredients and high in plant protein.
Alternatively, the Crudités selection is perfect for a healthy afternoon snack and the fresh scrumptious salads such as the Plant Kitchen Roasted Aubergine are a great option for any meal. Bursting with bright and exciting combinations, Marks & Spencer's range is less of a side dish and more of a main course. Not only that, Marks & Spencer also offers a variety of smoothies and juices, perfect for feeling refreshed and energised.
For those looking for a sweet treat, why not try Chouxnuts, an irresistible mixture of choux buns and doughnuts, filled with flavoured Crème Patissière. Made with free-range eggs and dairy from sustainable farms, this innovative treat is available in three delicious flavours, Rhubarb and Custard, Strawberries and Cream and Salted Caramel, topped with chocolate ganache. While the bite-sized Milk Chocolate Sticky Toffee Pudding Bites will melt in the mouth and tantalise all taste buds.
Every picnic of course needs accessories, so why not shop Marks & Spencer's new Sunbaked Picnic collection, which comes with plates and glassware. Adorned with a striking elephant print with flowers and pastel pink and earthy green tones, this stunning collection is sure to get people talking. While
Marks & Spencer's Reactive Picnic Range includes a gorgeous set of side plates, each crafted with a beautiful reactive glaze to add a splash of colour and sense of creativity to any picnic spread.
And if this isn't enough, stock up with Marks & Spencer's flamingo, watermelon and pineapple inspired plastic glassware for a wonderfully cheerful effect. Adding style and vibrancy, this glassware is perfect for serving up any beverage of your choice, from iced water to fruit juices or even a summery mocktail.
Shop the picnic collection in Marks & Spencer stores today.
FOOD FOR FAMILY & FRIENDS
Marks & Spencer
Sweet Potato Biryani Wrap
AED 110.00 Marks & Spencer
Roast Aubergine Salad
AED 110.00 Marks & Spencer
Roasted Vegetable & avocado, 184g
AED 95.00
Marks & Spencer
Apple with Peanut Butter Dip, 130g
AED 19.00 Marks & Spencer
Rhubarb & Custard Chouxnuts,
AED 27.00
Marks & Spencer
8 English Toffee & Milk Chocolate Drizzle Cookies, 200g
AED 19.00
Marks & Spencer
Salted Caramel Chouxnuts, AED 27.00 Marks & Spencer
Sticky Toffee Pudding Bites, 130g AED 19.00 Marks & Spencer
Strawberries & Cream Chouxnuts AED 27.00
Marks & Spencer
Ice Cream Inspired Toffees, 200g AED 12.00
PICNICWARE
Marks & Spencer
Flamingo Jug
AED 85.00 Marks & Spencer
Set of 4 Sunbaked Side Plates
AED 95.00 Marks & Spencer
Sunbaked Two Tier Serve Stand
AED 110.00
Marks & Spencer
Sunbaked Dorothy Hamper
AED 175.00 Marks & Spencer
Sunbaked Tray
AED 110.00 Marks & Spencer
Elephant High Ball
AED 25.00
Marks & Spencer
Flamingo Print Cool Bag
AED 110.00 Marks & Spencer
Set of 4 Nautical Dinner Plates AED 110.00 Marks & Spencer
Set of 4 Nautical Cereal Bowls AED 95.00
Marks & Spencer
Reactive Chip & Dip Platter
AED 70.00 Marks & Spencer
4 Bumble Tumblers
AED 85.00
Marks & Spencer
Reactive Tray
AED 85.00
Home
>>
Home, Furniture and Interiors Section