Home
>>
Home, Furniture and Interiors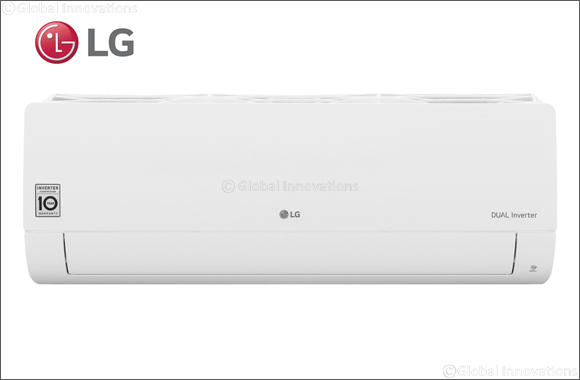 LG's Groundbreaking Dualcool With Inverter Tech Delivers Performance and Energy Efficiency
With Company's Dual Inverter Compressor™, DUALCOOL Air Conditioner Cools 40 Percent Faster and Uses 70 Percent Less Energy Than Conventional Models

Dubai, United Arab Emirates - 18 July 2019: LG Electronics (LG) is showcasing its latest DUALCOOL residential air conditioner (RAC) at its Home Appliance & Air Solution Press Tour in Seoul, South Korea.
The new model boasts innovative features and is the first air conditioner to utilize LG's Dual Inverter Compressor™, which cuts energy consumption without sacrificing cooling capabilities. Along with outstanding performance and impressive energy efficiency, the DUALCOOL has a simplified structure that saves technicians time and effort during installation and maintenance.
Thanks to LG's proprietary Dual Inverter Compressor™, the first variable-speed compressor designed for residential air conditioners, the advanced DUALCOOL delivers quiet, effective cooling while using less power. LG's revolutionary compressor technology lowers electricity consumption by up to 70 percent and enables the air conditioner to cool up to 40 percent faster than a typical non-inverter RAC.1 Additionally, the unparalleled Dual Inverter Compressor™ comes with a 10-year warranty.
The DUALCOOL offers further value with a slim, elegant design that matches any interior décor, and a simple, quick installation process that benefits users and technicians. Where conventional models usually require two people to complete the job, just one installer is all it takes to get the DUALCOOL up and running. Moreover, LG's latest RAC comes with a smart detection system that notifies users when refrigerant is low and needs to be replenished.
LG is also introducing a Wi-Fi-enabled smart window-type air conditioner powered by the Dual Inverter Compressor™. At the 2019 Edison Awards, a prestigious awards program honoring excellence in product innovation, the eco-friendly new model won a coveted gold seal in the Energy & Sustainability category.
"We're pleased to be presenting our innovative air solutions," said Song Dae-hyun, president of LG Electronics Home Appliance & Air Solution Company. "Powered by our state-of-the-art Dual Inverter Compressor™, the latest DUALCOOL air conditioner offers consumers an array of benefits through its excellent performance and improved efficiency. We will continue to enhance consumers' lives by adding convenience and real value wherever possible."
Home
>>
Home, Furniture and Interiors Section