Home
>>
Real Estate & Retail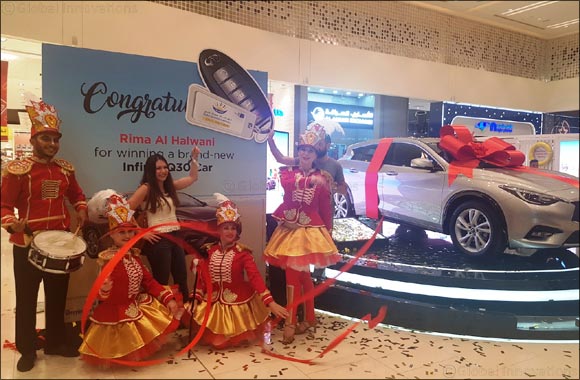 Dubai Summer Surprises Shopper Sells Her Car, Then Wins a Brand New Infiniti Q30
Dubai, United Arab Emirates, 23 July 2019: Dubai Summer Surprises (DSS) has awarded another winner, Rima Al Halwani from Lebanon, with a brand new INFINITI Q30 during the weekly raffle draw of the ongoing 'Shop and Win' promotion held at City Centre Me'aisem.
Organised by Dubai Festivals and Retail Establishment (DFRE) and Dubai Shopping Malls Group (DSMG), the promotion provides shoppers the chance to win an INFINITI Q30 every week during the summer period.
Commenting on her win, Rima Al Halwani said: "This is the first time I have won anything in my entire life, and it turned out to be a car! It is an amazing surprise, especially as I had just sold my car a couple of weeks ago, so I was in need of a new one. It's something that I could have never expected, I feel blessed and thankful to DSS for this great prize."
Those looking to win one of the remaining car prizes need to spend a minimum of AED 200 at any of the participating DSMG malls to enter the weekly draw. The participating malls to include Al Barsha Mall, Al Bustan Centre, Al Manal Centre, Al Mulla Plaza, Arabian Centre, Bin Sougat Centre, Burjuman, Century Mall, City Centre Me'aisem, Dubai Outlet Mall, Etihad Mall, Oasis Mall, Reef Mall, Times Square Center, Westzone Mall Al Khail, New Westzone Mall Mizhar and New Westzone Mall Mizhar 2.
Home
>>
Real Estate & Retail Section