Home
>>
Lifestyle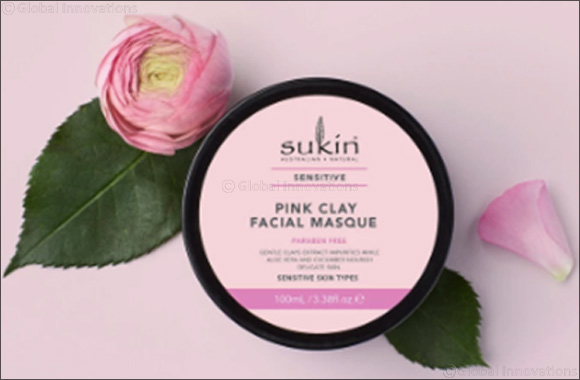 Introducing the NEW Pink Clay Masque from SUKIN
** Get your sensitive skin glowing! **
Dubai, United Arab Emirates - 05, August 2019: SUKIN, Australia's #1 Natural Skincare Brand, is continuing to deliver amazing natural skincare without compromise, anchored with affordability at its core. Because Sukin believes that everyone deserves to access the very best natural skincare solutions, and not have to pay an unnecessary premium to do so.
Introducing Sukin's latest Sensitive Pink Clay Masque, the newest member of the Sukin masque family!
Combining pink & red clays with soothing aloe vera & chamomile, coupled with a light vanilla fragrance, this masque will gently extract impurities and environmental pollutants to leave skin looking naturally clear and radiant. Cucumber in the formula refreshes, soothes and gives rapid moisture to skin while the aloe vera soothes and hydrates.
When compared to other popular pink clay masks on the market today, Sukin's version costs only AED 58, and is almost double the size for just 20% of the price per use.
Perfect to detox, cleanse and purify the skin, the mask also assists in tightening pores and removing pollutants that come in contact with the skin. This clay is also gentler and less irritating than other natural clays.
For the perfect application, apply to damp face and neck. Relax and allow to penetrate for 15 minutes and then rinse off with warm water and a wash cloth.
Sukin is available leading pharmacies including LIFE Pharmacy, Boots, Bin Sina, Holland & Barret and Lulu Pharmacy throughout the UAE, in Holland & Barrett Saudi Arabia and Boutiqaat in Kuwait. Sukin is also available in Lebanon at key pharmacies including Summerland Pharmacy, Arax Pharmacy and Express Pharmacy.
All products made by Sukin are Australian made, with ingredients that are naturally derived, cruelty-free and 100% vegan. All products adhere to Sukin's strict NO List.
NATURALLY CREATED WITH:
| | | |
| --- | --- | --- |
| NO SYNTHETIC FRAGRANCES | NO MINERAL OILS | NO SULPHATES |
| NO ANIMAL DERIVAATIVES | NO PETROLATUM | NO PARABENS |
| NO ARTIFICAL COLOUR | NO MEA/DEA/TEA | NO SILICONES |
| NO HARSH DETERGENTS | NO PHTAHALATES | NO EDTA |
Home
>>
Lifestyle Section