Home
>>
Lifestyle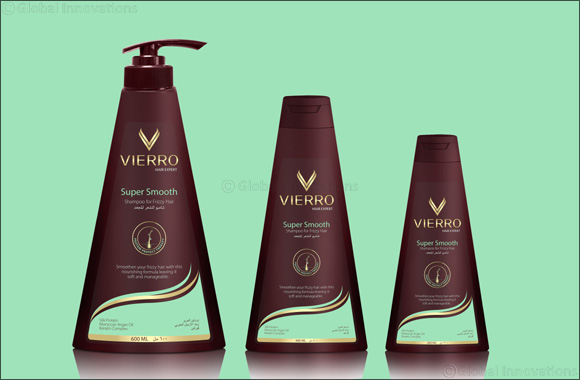 Say Goodbye to Frizzy Hair with Vierro's Super Smooth Range
Dubai, United Arab Emirates - 06, August 2019: Summer is in full swing and so is the rise in humidity, and that means a lot of uncomfortable sticky days, both for skin and hair. The science of it is that humid air causes hydrogen bonds to form between water molecules and the proteins in hair, triggering curls and frizz. Frizzy hair is a challenge for a majority of men and women, however, with the help of a good shampoo, better hydration and the use of anti-frizz hair products, it is easy to achieve smooth hair.
The Super Smooth range from VIERRO is especially designed taking into consideration the climatic conditions of the Middle East, featuring a careful mix of oils and proteins to protect your hair from frizz. Its nourishing formula tames the hair and makes it silky, smooth and manageable. With this range, fighting frizz or unruly hair won't have to be a part of your daily routine, and you will never need to have another bad summer hair day!
Vierro's hair experts have crafted a combination of the most unique proteins providing your hair with the best nourishment science has to offer. Its Protein Protect Therapy is a newly designed technology that strengthens and protects hair from root to tip. It nourishes the scalp with a coated layer of proteins which promote hair growth. A unique blend of rich natural oils and minerals create a therapeutic hydration experience, leaving hair strong, healthy and shiny.
The range includes a shampoo and conditioner duo and an oil replacement that features good-for-your-hair proteins including:
Silk Protein: Hydrolyzed silk protein replenishes your hair by penetrating it and improving its elasticity against breakage. It also forms a protective barrier on the hair, keeping it strong and silky just the way you like it.
Moroccan Argan Oil: Argan oil makes your hair softer, silkier and shinier. It acts as a moisturizer for the scalp and promotes the growth of healthy and strong hair.
Keratin Complex: Hydrolyzed Keratin protein coats and penetrates the hair shaft to replace missing keratin in microscopic gaps along the hair shaft, resulting in smoother and shinier hair.
Shampoo available in 600ml (AED 19.50), 400ml (AED 14.75), 200ml (AED 8.50)
Conditioner available in 400ml (AED 11.50)
Oil Replacement available in 250ml (AED 11.50)
Vierro products are available at leading supermarkets and hypermarkets in the UAE including Carrefour, Union Coop, Sharjah Coop, Abu Dhabi Coop, Lifco Supermarket, Al Maya supermarket and many other stand-alone super markets around the UAE
Home
>>
Lifestyle Section