Home
>>
Education & Training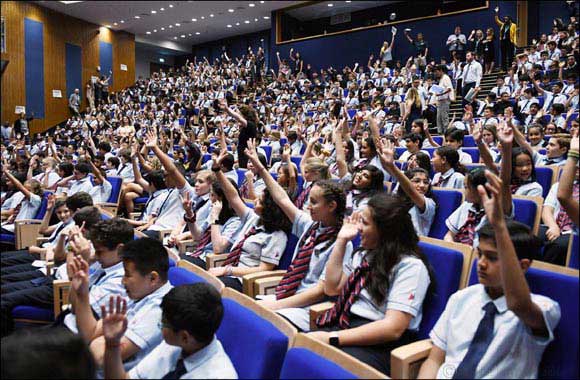 GEMS Education welcomes 18,000 new students and 1,800 new teachers for 2019-20
Dubai, United Arab Emirates - September 01, 2019: Schools in UAE sprang back to life for the first day of the new academic year on Sunday 1 September. It promises to be an exciting year ahead as GEMS Education introduces a host of innovative programmes and teaching methods that will expand the opportunities available to the 125,000 students enrolled across its 48 UAE schools, of which 18,000 are newly enrolled. In addition, some 1,800 new teachers have joined the network, each carefully picked for their individual expertise and talents, and collectively adding immeasurable value to not only GEMS Education schools, but also the country's education sector as a whole.
Sir Christopher Stone, Chief Education Officer, GEMS Education, said: "Back-to-school marks the beginning of an important chapter in the lives of children. We are really looking forward to welcoming all of our students and staff for an exciting year ahead. Being at a school that is part of GEMS Education, which has a 60-year legacy in the UAE, means that students and staff are members of an extended family, and we want to do everything we can to help each and every one of them reach their full potential."
Fatima Martin, Principal of GEMS New Millennium School, said: "The new term heralds new energies and new ideas, setting the pace for high achievement throughout our school community. We are delighted to welcome back our students, who will see this vision through to reality. Our students have been actively engaged in many activities over the summer, including the Singularity University Global Summit in San Francisco, the #8WeekStreak from KHDA, as well as highlighting their summer travels and internships on social media using #NMSHolidays. We can't wait to hear the buzz, the chatter and the laughter that our students bring to our school."
In the new academic year, GEMS New Millennium School is set to host its very first TEDx, the senior school will present its theatre production 'Selfie', and the school will host numerous events, including a Primary Swim Gala and World Cultures Week.
Neil Matthews, Principal of GEMS Wellington Academy – Al Khail, said: "As the new school year begins, I am very excited about welcoming our new and returning students and their families. Every member of the team is really looking forward to the year ahead and to the many achievements of our students. I am immensely proud of our school community and the countless experiences and opportunities our students embrace with enthusiasm and excitement. Over the summer break, we saw a second year of exceptional GCSE results, undertook several exciting projects to enhance our learning environments, received some wonderful feedback from our parents, and saw the highest number of teachers return to GEMS Wellington Academy in its history. We are all so excited about the year ahead."
Over the course of the coming year, GEMS Wellington Academy is set to continue to enrich its curriculum with a focus on student wellbeing, leadership and community service.
GEMS Education has some 125,000 students across 48 schools in the UAE.
Home
>>
Education & Training Section