Home
>>
Entertainment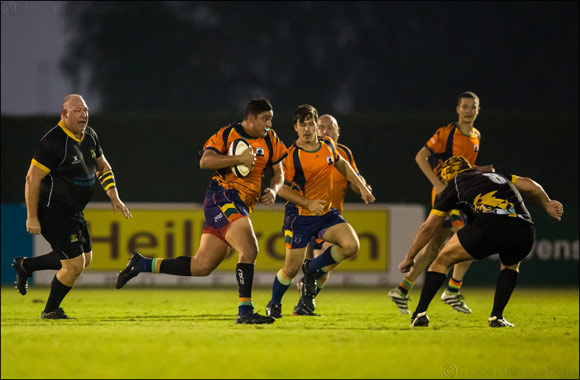 Dubai Knights Eagles To Host Open Day Ahead Of Upcoming Season on 6th September
Newly merged club also unveiled inaugural Head Coach Josh Ives
Dubai, 04 September 2019: Dubai Knights Eagles the new premier rugby club, following this summer's merger between Dubai Eagles and fellow club Arabian Knights, will be hosting an Open Day this Friday 6th September.
Dubai Knights Eagles club culture ensures everyone is welcome, whether they have experience in rugby or not, with registrations taking place at The Dome, in Dubai Sports City, ahead of the official start of the upcoming rugby season. There will be plenty of entertainment taking place, with rugby games planned and a selection of food and beverage stands on offer. All those visiting will have the chance to meet with members of the club and see the facilities first-hand.
Vijay Sajjanhar, Chief Financial Officer of Dubai Sports City, speaking ahead of the Open Day said:
"Ahead of the new rugby season, I am sure all those signing-up at our Open Day will have an active fun-filled time and see what we have to offer. The newly formed Dubai Knights Eagles speaks loudly in regards to our commitment at Dubai Sports City to ensure rugby as a sport flourishes in the UAE. I hope all of those signing up in September will be able to look back next summer on a season full of unforgettable memories."
Also present at the Open Day will be Josh Ives, who was recently unveiled as the new Head Coach of the Dubai Knights Eagles, ahead of the club's first official game of the season in the West Asia Premiership on Friday 4th October. Ives has a strong rugby background having been involved with the Dubai Eagles since it was formed and previously coached with Apollo Perelini's Rugby Academy, where he was the Head Skills Coach for six years. His own personal playing experience includes the UAE 15s and 7s national sides, England Rugby Schools, and Northampton Saints Rugby Club.
Speaking about the appointment, Director of Rugby, Sean Carey said: "Our rugby club may only be recently formed, but Josh's appointment and his commitment to continue from the Dubai Eagles shows just how serious we are about the upcoming season. Josh is a fantastic coach, with extensive experience as a coach in the UAE and as a player for the national team in both 15s and 7s. We believe his appointment is the right one to bring Dubai Knights Eagles success in the short, medium and long term.'
Preparation for the new season is already well underway for both the men's and women's teams at Dubai Knights Eagles. Training began back in July where both teams spent six weeks in the Powerbase Gym and The Dome at Dubai Sports City focusing on a rugby specific strength and conditioning program. . With the weather now cooling, the Dubai Knights Eagles men's side has begun conducting training sessions on the grass at Sports Park where the teams train every Monday and Wednesday at 7pm.
The men's side has a friendly scheduled against Al Ain this Friday 6th September, with 65 players having turned up for pre-season training already. The women's team is also in regular training with sessions taking place on Monday's at 7pm and Wednesday's at 8pm, with their first tournament scheduled to take place on Friday 27th September.
The new club's kit has also been announced and will feature the orange of the Arabian Knights and the green of the Dubai Eagles. Avtrade has joined as a kit sponsor, alongside the club's current sponsor ALTRAD.
Home
>>
Entertainment Section