Home
>>
Lifestyle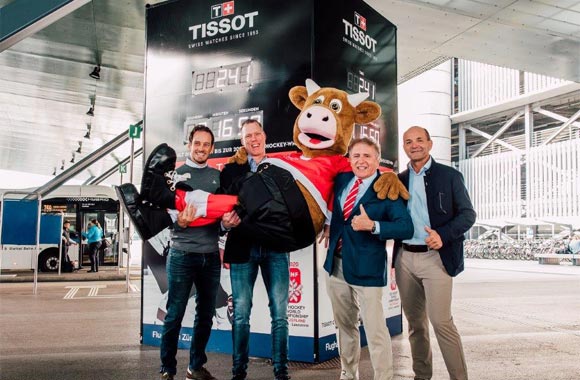 As Official Timekeeper of the 2020 IIHF Ice Hockey World Championship, Tissot starts the countdown to the beginning of the competition
Dubai - UAE, 15 September 2019: Today, at Zurich Airport, Tissot officially began counting down the days to the opening of the IIHF Ice Hockey World Championship, which will be held in Zurich and Lausanne in 2020.
Today, François Thiébaud, President of Tissot SA, revealed the 241-day countdown until the opening game of the Ice Hockey World Championship on 8 May 2020. Matthias Sempach, a friend of the watchmaking brand and "King Schwinger", was also present for the announcement.
Tissot, which for 20 years has been the Official Timekeeper of the International Ice Hockey Federation (IIHF), is very proud to be part of this not-to-be-missed international ice hockey event. This sports event will take place from 8 May to 24 May 2020 on the ice rinks of Lausanne and Zurich, where more than 16 teams will contend.
François Thiébaud, President of Tissot, reiterates the commitment of the watchmaking brand: "The fact that the IIHF World Championship will be held in Switzerland next year represents the opportunity for us to promote our history through a partnership. Being the Official Timekeeper of this competition offers us the chance, once again, to emphasize the dynamic character of the brand and our values of precision and performance."
In addition to its commitment to the IIHF, Tissot is also the partner of several other events linked to the sport, the Tissot Arena in Bienne, the Bernese clubs HC Bienne and SCB, and the HCC Club of La Chaux-de-Fonds.
Home
>>
Lifestyle Section