Home
>>
Real Estate & Retail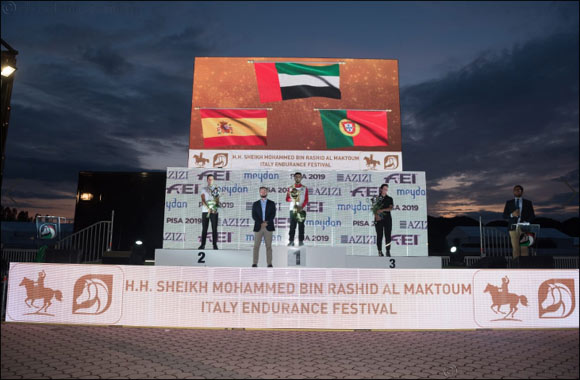 Azizi Developments sponsors H.H. Sheikh Mohammed bin Rashid Al Maktoum Italy Endurance Festival
Dubai, United Arab Emirates, 21 September 2019: Azizi Developments, one of the leading private developers in the UAE, sponsored the highly-esteemed H.H. Sheikh Mohammed bin Rashid Al Maktoum Italy Endurance Festival, part of the Toscana Endurance Lifestyle 2019, held at the San Rossore Racecourse in Pisa, Italy between the 17th and 19th of September 2019. This is the third consecutive year in which Azizi sponsors the prestigious event.
As one of the most prominent equestrian gatherings, the Endurance Festival comprises a series of races, including the 120km FEI Meydan World Championship - Young Riders and Juniors, the 120km H.H. Sheikh Mohammed Bin Rashid Al Maktoum Italy Endurance Festival sponsored by Azizi and the 120km FEI World Championship Young Horses. The H.H. Sheikh Mohammed Bin Rashid Al Maktoum Italy Endurance Festival had a starting lineup of 225 horses and 35 participating nations.
Farhad Azizi, CEO of Azizi Developments, said, "Azizi Developments wholeheartedly supports the vision of His Highness Sheikh Mohammed Bin Rashid Al Maktoum, Vice President and Prime Minister of the UAE and Ruler of Dubai, to promote and advance equestrian sports across the globe. As part of our strategic alliance with Meydan, we strive to consolidate the bond between the UAE and Italy and are keen to bring the two nations together under a banner of sportsmanship and collaboration. This festival is one of the most important and celebrated annual sporting events in the equestrian calendar. We are proud to partner with it once again, bringing communities together."
As part of the sponsorship, Farhad Azizi presented the winning trophies to winners of the 120 km H.H. Sheikh Mohammed Bin Rashid Al Maktoum Italy Endurace Festival, in which the UAE claimed the top rank. Saeed Sultan Al Maamri, riding Andy from MRM Stables, came in first, while David Abab Guerra from Spain, riding Nadin Fay, and Mariana Gomes Oliveira from Portugal, riding Jilguero II Ex Clavijo De Guad, bagged trophies for the second and third places respectively.
Home
>>
Real Estate & Retail Section