Home
>>
Fashion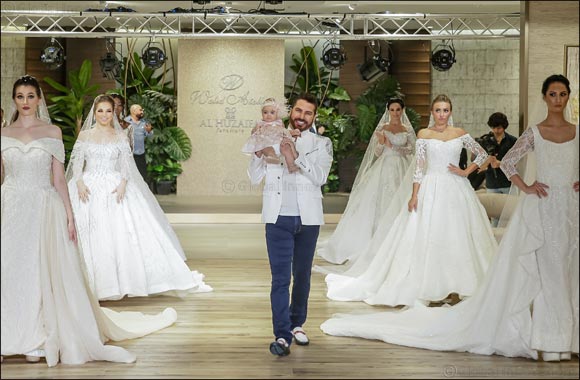 Al Huzaifa Furniture stages an extraordinary show for fashion designer Walid Atallah
September 23, 2019 - Dubai, UAE
Recently, fashion trends have become closely aligned with the world of interior design, as we see many major collaborations between established furniture brands and prominent fashion designers.
Wednesday, September 18, 2019 marked the beginning of one such collaboration between luxury furniture brand Al Huzaifa and world renowned fashion designer Walid Atallah. An exclusive private fashion show was hosted at the Al Huzaifa showroom in Al Wasl in the presence of VIP personalities and fashion lovers who were impressed by the artistic designs and creative flow of the event overall.
Expanding beyond fashion, the attendees had the chance to tour out the new showroom of Al Huzaifa, which is known amongst the best furniture brands in the world, marked by the esteemed quality and aesthetic presence.
The Al Huzaifa brand ensures to always cover new and distinct furniture designs in varied modern and contemporary styles while ensuring affordability and quality.
Upon this occasion, Mr. Saif Nensey, Managing Director at Al Huzaifa Furniture expressed: " It is our pleasure to welcome world fashion designer Walid Atallah in our showroom at Al Wasl, for his ability to make his way up in the fashion field achieving astonishing designs and a well-known reputation," Moreover Mr. Saif added: " This show is just the beginning of future collaborations together."
Walid Atallah never fails to impress his customers and fashion lovers with extraordinary and elegant designs that clearly reflect the new winter collection "chic 2019" consisting of 28 dresses, 22 haute couture and 6 wedding dresses.
The colors of the designs varied between beige, bronze, tiffany, pink, Fuchsia, and grey which created a soft and elegant match with the overall setup of the contemporary and modern furniture styles.
Walid Atallah also said: "Al Huzaifa Furniture is a well-known brand that is keen to stay very current with emerging trends and modern times containing truly high-quality and innovative furniture, thus I was more than happy to reveal my new collection in their showroom. Looking forward to future collaborations together."
Walid Atallah was honored with an appreciation award presented by Al Huzaifa management in the presence of Sheikh Abdul Aziz bin Ahmad al Mualla, Mr. Yaqoub Al Ali from Dubai Customs as well as media networks, celebrities and social media influencers.
Home
>>
Fashion Section