Home
>>
Fashion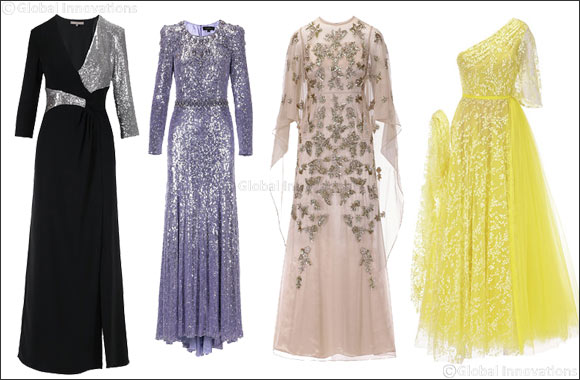 Robinsons unveils its Stunning Eveningwear Collection
Dubai, United Arab Emirates - September 29, 2019: With wedding season just around the corner, Robinsons the UAE's largest department store has launched its beautiful new eveningwear collection. Embracing contemporary and stylish looks, which are at once sophisticated and chic, there is something to suit all this season.
For many the LBD and a classic formal gown have always been the go-to dresses for eveningwear. However, this Fall a fresh wave of designers are reinventing the concept of dressing up and Robinsons is championing them all. From metallic to sumptuous satin, embellished to frilled and sculptured to feathered – shoppers at the leading luxury department store will be spoilt for choice.
This season, sequins are having a moment and they are the perfect way to make a statement. From the must-have Jenny Packham dress adorned in the most dazzling embellishments to the black and silver Simona Corsellini number, perfect for creating a sculpted and slimline flattering silhouette – Robinsons will ensure its clientele are dressed to impress.
Better still, women can shop a range of metallic dresses to add a pop of sparkle to any outfit, such as the fabulous bronze coloured gown by Talbot Runhof, while Theia this season, favoured by the likes of British royalty and A-list stars, including Kendall Jenner and Priyanka Chopra is championing the Victorian era but with a contemporary twist.
Furthermore, why not take occasionwear up a notch with voluptuous romantic silhouettes – think layered and ruffled to couture inspired pieces. From Marmar Halim and Needle & Thread to Zeena Zaki, these must-have brands will make any woman feel like a modern-day princess. Team with understated heels by Sophia Webster or Malone Souliers and a statement clutch from Edie Parker or Gedebe and women will arrive to any occasion in style.
And if this wasn't enough, Robinsons is offering a new luxurious makeover service for free. Home to some of the finest beauty brands in the world, the service offers women a 30 to 60-minute, one-to-one session with a makeup artist who will create a personalised pick'n'mix edit from over 65 leading brands, including Armani Beauty, Bobbi Brown, Chanel, Dior Beauty, MAC, and Tom Ford. Whether shoppers would like to book in advance by calling 04 706 3910 or prefer to walk in, Robinsons will ensure every woman is party ready this season from head to toe.
Home
>>
Fashion Section