Home
>>
Education & Training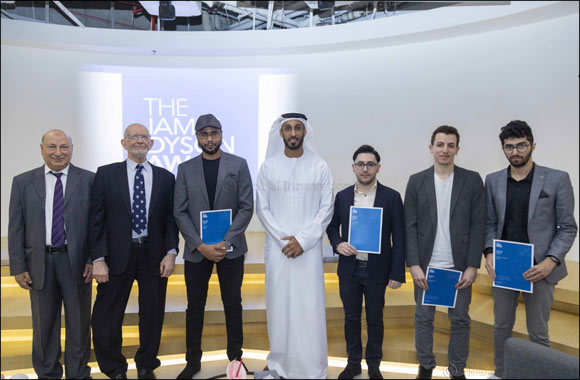 AU Team Wins Top Spot in James Dyson Award
Ajman-UAE: September 29, 2019: Ajman University (AU) made it happen again! A team of students and graduates at the College of Engineering and Information Technology have shinned in the James Dyson Award with their 'Vita-CAM' project.
The smart phone application, using artificial intelligence to detect vitamin deficiency in humans by taking pictures of their eyes, lips and tongue, has won the first spot in the local level of the international award.

Earlier, the team, including Ahmed Saifeldeen, Mohamed Ait Gacem, Saifeldeen Alghlayini, and Eng. Wessam Shehieb, an Assistant Lecturer at the AU College of Engineering and Information Technology, won first places at the UAE Hackathon.
The team is now qualified for the next round alongside all other winners from all over the world; in countries where James Dyson branches are available.
Dr. Karim Seghir, AU Chancellor, said Ajman University takes pride in qualifying students for academic excellence and providing them with hands-on and focused training. "This bolsters students' competitiveness in international, regional and local competitions and forums."
He added that the Ajman University Innovation Center has become a leading hub that attracts, encourages, and develops students' innovation and creativity.
"We are so proud of this exceptional achievement," he said, wishing the team all the best in the international stage of the award.
Eng. Wessam Shehieb, who is also a graduate of the AU College of Engineering and Information Technology, said they have shined in several local forums, including the du Internet of Things and Artificial Intelligence competition.
"We have won several awards and medals, and this achievement is only a step forward in the way to the aspired global award."
He added that the project would not have been possible without God's blessing, and the relentless support of Ajman University that offers unique academic rigor and hands-on experience, and promotes brilliant ideas and innovations.
"I am so proud to belong to this esteemed institution which is in the top 2.8% universities worldwide and among top 1.7% institutions in the Arab world."
The James Dyson Award is an international engineering design award that celebrates, encourages and inspires the next generation of design engineers. It is open to current and recent design engineering students and is run by the James Dyson Foundation.

Entries are judged first at the national and regional levels before progressing to the international stage. A panel of Dyson engineers selects an international shortlist of 20 entries. The top 20 projects are then reviewed by Sir James Dyson, who selects the international winner plus up to two runners-up.

While entries were accepted on March 28 to July 11, 2019, about 50 projects were qualified for the second stage on the national and regional levels, and the national winner (Vita-Cam) and two runners-up were announced on September 19. The shortlisted projects will be announced on October 17, while the international winner is to be announced on November 14.

An awarding ceremony will be held on September 30 at the Youth Hub - Emirates Towers, Dubai, including a panel discussion and words from H.E. Khalfan Belhoul, Chief Executive Officer, Dubai Future Foundation.
Home
>>
Education & Training Section