Home
>>
Government, Legal & Humanity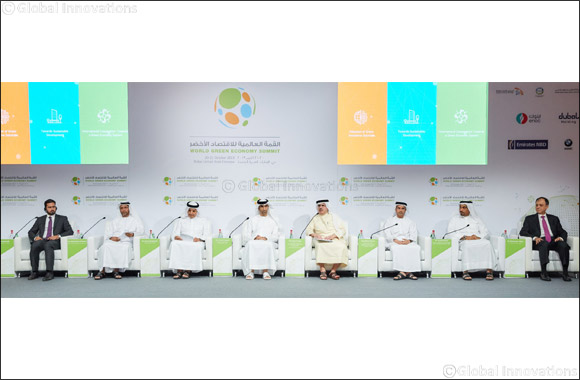 During a press conference to announce the completion of preparations of Summit that will be held under the patronage of His Highness Sheikh Mohammed bin Rashid Al Maktoum, Vice Pre
Wide international participation in WGES 2019 led by Former Secretary-General of the United Nations - Ban Ki Moon, Former President of France - François Hollande, Former President of Mexico, Former President of Colombia, Former Prime Minister of Australia
Discussions in the summit aim to find solutions to push forward green economy, realize sustainable development goals and address climate change challenges
Local participation of UAE Minister of Climate Change and Environment, and UAE Minister of State for Food Security
Dubai, United Arab Emirates, 9th October 2019: The organizing committee of World Green Economy Summit (WGES) held a press conference today, (Wednesday, 9th October) at Madinat Jumeirah Hotel in Dubai to announce the completion of preparations for hosting the summit, one of the largest events related green economy in the world.
WGES will be held under the patronage of His Highness Sheikh Mohammed bin Rashid Al Maktoum, Vice President and Prime Minister of the UAE and Ruler of Dubai at Dubai International Convention and Exhibition Center on October 20th-21st. Dubai Electricity and Water Authority (DEWA) is organizing the summit in collaboration with World Green Economy Organization (WGEO) under the theme 'Innovative Technologies for a Sustainable Economy' and will focus on three key pillars - Sustainable Development Mechanisms; International Cooperation to support the Green Economy System; and Adoption of Green Innovative Solutions.
The press conference was attended by H.E. Dr. Thani bin Ahmed Al Zeyoudi, UAE Minister of Climate Change and Environment, and HE Saeed Mohammed Al Tayer, Vice Chairman of the Dubai Supreme Council of Energy in Dubai, Managing Director and CEO of Dubai Electricity and Water Authority (DEWA), and Chairman of WGES, in addition to HE Ahmad Buti Al Muhairbi, Secretary General of the Dubai Supreme Council of Energy (DSCE), as well as other government officials and representatives of the private sector.
Organized throughout two days, WGES will offer a global platform for decision makers, government officials, international business leaders, and world-renowned experts to discuss how to advance sustainability and promote green investments.
H.E. Dr. Thani bin Ahmed Al Zeyoudi, said, "The transformation to green economy is one of the priorities of the UAE, and as per the direction of the wise leadership, the country has implemented an integrated mechanism to support this transformation that includes a legislation umbrella that sets the concept and the general practices to realize this transformation. Also, the UAE has launched initiatives and programs to ensure economic growth while maintaining the environment and the natural resources of the country and decreasing carbon percentages, that is one of the pillars of moving to green economy."
HE Dr. Al Zeyoudi added, "WGES since its inception five years ago has contributed significantly in experience and knowledge transfer as well as highlighting the efforts exerted by the UAE. Also the Summit has created a platform to finance green investments through Dubai declaration that was launched during it."
HE Dr. Al Zeyoudi also valued the significant role exerted by the World Green Economy Organisation and DEWA in organising the summit and attracting elite of officials, decision makers, experts and specialists."
During the press conference, HE Saeed Mohammed Al Tayer said, "The preparations are completed to host the sixth edition of WGES that is organized by DEWA and WGEO in collaboration with international partners. In line with the directives and patronage of His Highness Sheikh Mohammed bin Rashid Al Maktoum, Vice President and Prime Minister of the UAE and Ruler of Dubai, that aims to support the relentless efforts of the UAE in sustainable development, as well as to reinforce Dubai's position as the global capital of green economy. While our wise leadership is keen to build a more sustainable environment, we aim to find long term solutions that address the challenges in line with the United Nations Sustainable Development Goals 2030, and the transition to green economy to ensure a sustainable future for us and generations to come."
HE Saeed Mohammed Al Tayer unveiled during his speech that the sixth edition of summit will have presence of a number of presidents, global leaders and influencers. He said, "One of the biggest guests to the summit is H.E. Ban Ki Moon – Former Secretary-General of the United Nations, who will participate as the main speaker, as well as H.E. François Hollande, Former President of France, H.E. Felipe Calderón, Former President of Mexico, H.E. Juan Manuel Santos, Former President of Colombia and H.E. Julia Gillard, Former Prime Minister of Australia, and HE Ovais Sarmad, Deputy Executive Secretary of the United Nations Framework Convention on Climate Change (UNFCCC). Locally, the summit will witness the participation of H.E. Dr. Thani bin Ahmed Al Zeyoudi, UAE Minister of Climate Change and Environment, H.E. Mariam bint Mohammed Saeed Hareb Almheiri, UAE Minister of State for Food Security, HE Awaidha
Murshed Al Marar, Chairman, Abu Dhabi Department of Energy and Dr. Aisha Bint Butti Bin Bishr, Director General, Smart Dubai Office.
To enrich the discussion of the summit, that aims to find solutions to move green economy ahead and achieve sustainable development goals, as well as address the challenges of climate change, WGES will also see participation of government employees, decision makers, international consultants in the green economy along with members of non-governmental institutions.
HE Saeed Mohammed Al Tayer added, "These efforts have borne fruit in developing pioneering policies, strategies and plans, in the form of UAE Centennial 2071, UAE Vision 2021, Dubai Plan 2021, Dubai Clean Energy Strategy 2050, UAE Green Agenda and the Carbon Abatement Strategy 2021 in addition to Dubai Declaration, a strategic commitment underlying the development of WGES."
HE Saeed Mohammed Al Tayer said, "In the past five editions, WGES has played a vital role in formulating effective responses to the damaging impact of environmental degradation and the use of the earth's finite natural resources to support our economic system. Humanity is already suffering the consequences of these unsustainable practices and there is an urgent need to reinforce the green economy systems around the world."
HE Saeed Mohammed Al Tayer expressed his thanks to the wise government for their continuous support towards the march of green economy, locally and globally. "We continue our commitment for the strategic collaboration with partners and continue our dialogue and discussion to address climate change issues and their various challenges. Our hopes are big, our ambitions are limitless, and our primary motive is to contribute on building sustainable future.
Transformational projects such as the creation of solar power plants, adoption of electric cars, digitization, supporting infrastructure as well as the construction of sustainable, low-carbon urban communities across the UAE demonstrate how we can continue to achieve progress while at the same time protecting the environment and conserving natural resources for generations to come."
HE Saeed Mohammed Al Tayer added, "The summit provides a leading platform for dialogues, ideas and exchange of expertise and the upcoming edition will feature 3700 participants including experts, opinion leaders' specialists from green economy, as well as CEOs, decision makers and consultants. The summit this year will attract 60 key speakers and will run 14 panel discussions."
"On the first day, the attendees will shed light on sustainable development goals; women in green economy; the future of mobility; the impact of technology; and youth engagement. The second day will feature discussions on sustainability in the private sector; green banking and investments; green energy; sustainable agriculture; the provisions of Dubai Declaration; and the recommendations of WGEO."
HE Saeed Mohammed Al Tayer added, "The summit this year, which is being staged during the UAE's Year of Tolerance will identify leading practices and formulate innovative solutions to inspire change and push our endeavors forward for a sustainable future for everyone."
HE Saeed Mohammed Al Tayer concluded his speech by emphasizing how the summit has always been at the forefront to accelerate the green economy agenda and hoped to maintain this role in the years to come, with Dubai at the centre of these fruitful exchanges of ideas, experiences, and expertise that to form a better future for humanity. This is in line with the position of the emirate and its efforts as a global capital of green economy.
During the press conference, a video was broadcast for HE Juan Manuel Santos, Former President of Colombia, where he underscored the significance of international collaboration to fight climate change across the world. He also expressed his pleasure to take part in the forthcoming summit. HE Juan Manuel Santos has always been at the forefront of encouraging dialogue and expertise exchange to achieve the objectives of green economy. Also, he's played an instrumental role in increasing global awareness around climate change in transition towards a green economy.
WGES this year will be held in conjuction with the 21st edition of Water, Energy, Technology, and Environment Exhibition (WETEX) and the fourth edition of Dubai Solar Show and the sixth edition of the Green Week.
Home
>>
Government, Legal & Humanity Section