Home
>>
Education & Training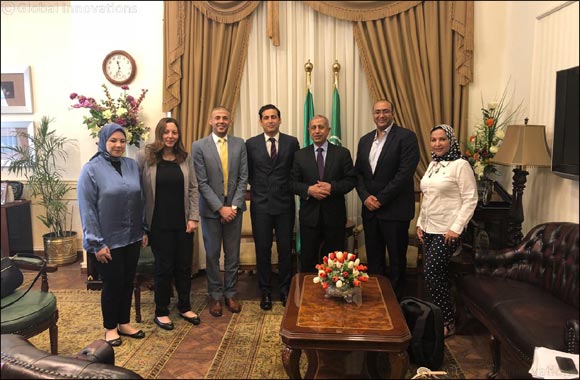 Cambridge Assessment English witnesses a huge demand for OET (Occupational English Test) at Arab Academy for Science, Technology & Maritime Transport University in Egypt
• The university has seen high demand for OET at their examination centre for healthcare sector in Alexandria
• University plans to open up their Second test centre in Giza
Dubai, United Arab Emirates - October 10, 2019: Cambridge Assessment English, a part of University of Cambridge has seen a great demand from Egyptian doctors for the Occupational English Test (OET), the English language test of the healthcare sector at the examination center of Arab Academy for Science, Technology & Maritime Transport university in Alexandria. The International Examination Centre in Alexandria has been offering the OET test for the past four years.
Since 2013, OET has been owned by Cambridge Boxhill Language Assessment, a venture between Cambridge Assessment English and Box Hill Institute.
OET is an Australian-developed English language test that assesses the language proficiency of healthcare professionals. It provides assessment of all four language skills – listening, reading, writing and speaking – through test material designed to reflect real healthcare scenarios.
The Arab Academy for Science, Technology & Maritime Transport university is proud to host the Occupational English Test (OET) at the International Examination Centre in Alexandria, giving the opportunity to healthcare professionals from Egypt and all over the world to prove their ability to communicate effectively in a demanding healthcare environment. Having a Local Examination Centre for OET exam in Egypt is a great chance for Egyptian doctors to have a proficiency test which is trusted by healthcare governments & employers to ensure that healthcare professionals have the required English proficiency to provide safe & effective care to the patients.
Dr Ismail Abdel Ghaffar, President of the Arab Academy for Science, Technology and Maritime Transport said, "The international healthcare community is incredibly diverse and professionals from Egypt and all over the world make a huge contribution. However, it is essential that professionals working in English-speaking environments have the English language skills which they need to deliver high-quality care and patient safety. This enables them to deal with complex communication situations with their colleagues and patients. It is really encouraging that the OET test is taking off in Egypt as it will mean more professionals will have a positive experience of working in the healthcare sector. It is also great for us to be on board and we all are delighted to be working with such a prestigious organization."
Nassim Abu-Ershaed, Regional Commercial Head at Cambridge Assessment English said, "OET is a specialist English language test for the healthcare sector that is used by medical professionals who need to prove they have the right levels of English language skills to work in an English-speaking environment. An expert from Cambridge Assessment English, the majority owners of OET, has welcomed the demand."
OET reflects real life workplace scenarios for 12 healthcare professions which are - Dentistry, Dietetics, Medicine, Nursing, Occupational Therapy, Optometry, Pharmacy, Physiotherapy, Podiatry, Radiography, Speech Pathology and Veterinary Science.
OET can be used as a proof of English language ability for people who want to work and study around the world including the UK, Ireland, Australia, New Zealand, Ukraine, Dubai, Singapore or Namibia.
Home
>>
Education & Training Section