Home
>>
Banking & Investments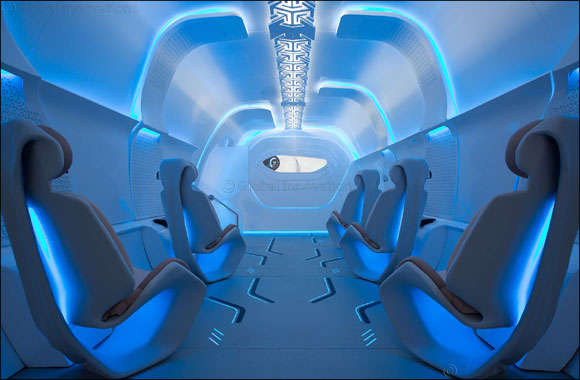 Formula 1 meets Virgin Hyperloop One: California-based Developer to Showcase Passenger Pod at This Year's Abu Dhabi Grand Prix
As speed- and thrill seekers flock to Abu Dhabi for the Grand Prix this weekend, visitors will be presented with a rare opportunity to enter the Virgin Hyperloop One passenger pod that promises to move people and cargo at speeds exceeding 1,000km/h.

ABU DHABI, UNITED ARAB EMIRATES - NOVEMBER 28, 2019 – Virgin Hyperloop One (VHO), the world's leading hyperloop company, today announced its participation at this year's Abu Dhabi Grand Prix, the most anticipated racing event in the Middle East. The annual event is taking place from November 29th - December 1st, at Yas Marina Circuit in Abu Dhabi.
An Abu Dhabi debut, VHO is presenting visitors, racing fans, and thrill seekers at the Formula 1 circuit with the opportunity to encounter a true 21st century travel experience. The racing event, which will attract the world's best drivers, will be a unique opportunity for visitors from the general public to access the pod. The hyperloop system when implemented will reach speeds of up to 1,000km/h. In comparison, the current top speed recorded by a Formula 1 driver lies at just above 370km/h.
Speaking about a potential hyperloop project in the region, Harj Dhaliwal, Managing Director for the Middle East and India at VHO, said, "Abu Dhabi has a vision to transform their city using AI technology and future-thinking models which is consistent with our vision to revolutionize transportation through smart mobility. As the capital's leaders continue to diversify their economic ambitions, we see a real opportunity to transform the way passengers and cargo move across the region at never before seen speeds. Imagine traveling from Abu Dhabi to Riyadh in just 48 minutes on a hyperloop—this unique opportunity is one we think is worth exploring. Hyperloop technology not only promises to connect the Gulf but offers many benefits such as improved workforce mobility and job creation and a convenient means of transportation for increasing numbers of tourists that fosters economic growth in strategically important sectors."
"Participating in this year's Abu Dhabi Grand Prix is a natural fit for us and we are very excited to be there. At VHO, not only are our hundreds of engineers are fascinated by speed, acceleration and the sheer transformative powers of technology, but our entire team is very passionate about implementing hyperloop in the region. We are confident to engage with likeminded partners at the event", Mr. Dhaliwal added.
Having attracted a total of US $370 million in funding over the past years, and backed by DP World, VHO is working with a team of 200+ highly qualified in-house engineers toward transforming mobility and trade, with ambitions to develop the transportation infrastructure in the Gulf region. Hyperloop - a 100% electric, low-emission infrastructure project - is a transportation solution for millions of people across the region that could realise the sustainability goals of multiple government entities.
Paying testimony to its commitment to the region and to the realization of a 'Connected Gulf', VHO has announced the findings of a feasibility study that could see the leading developer break ground in Saudi Arabia as early as 2020. The report illustrates how the establishment of a proposed Centre of Excellence would drive domestic value by adding to the creation of more than 124,000 high-tech local jobs, supporting the technology sector by incorporating advances in robotics and AI and driving an estimated $4billion increase in KSA GDP by 2030.
The ground-breaking hyperloop technology promises to transport passengers between Abu Dhabi and Riyadh in 48 minutes. A similar journey from Riyadh to Mecca could take just 41 minutes. Beyond Saudi Arabia and the UAE, VHO has ambitious plan to extend its network across the wider Gulf region that could also include Bahrain, Kuwait and Oman.
Home
>>
Banking & Investments Section