Home
>>
Food Industry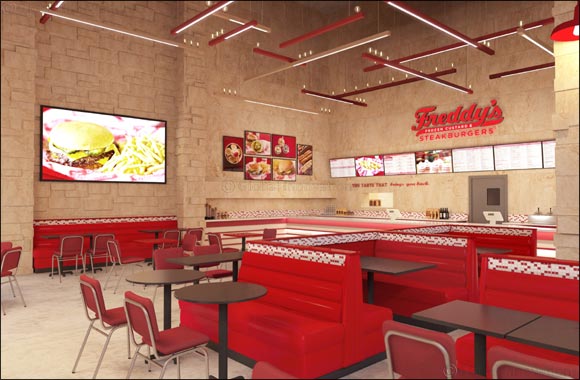 Freddy's Nakheel Mall Now Open
Dubai, United Arab Emirates, December 12, 2019: Fast-casual restaurant concept Freddy's Frozen Custard & Steakburgers® is now open at Nakheel Mall. The opening marks a third Dubai location for the chain. Freddy's is known for its cooked-to-order steakburgers made with lean 100 percent USDA Halal ground beef, Vienna® Beef hot dogs, crispy shoestring fries and frozen custard treats made with freshly churned Meadowvale chocolate or vanilla frozen custard.
"Our dine-in restaurant is located on the second level, in the heart of the mall and adjacent to the cinema which makes us a convenient option for everyone," said Yousef Khattar, Managing Director of Tastebuds Group – the franchise operator appointed to develop Freddy's Frozen Custard & Steakburgers within the GCC, Lebanon and Jordan.

"Consistency remains a top priority as we continue our area expansion. The Freddy's experience is more than just the food we serve. Guests appreciate our dedication to genuine hospitality in a quick-service restaurant."

The 2,440 square-foot restaurant seats 82 guests. Hours of operation are 10 am to 10 pm Saturday through Wednesday and 10 am to midnight Thursday and Friday. Delivery is available city-wide with major delivery providers including Zomato, Deliveroo, Uber Eats and Talabat.

"The success of our food court locations in Dubai Mall and Mall of the Emirates has been heartening and reinforces the strength of our partnership with Tastebuds Group," said Randy Simon, co-founder and CEO. "Buoyed by the positive start and the rave reviews, we are excited about opening at Nakheel Mall and delivering the unparalleled Freddy's experience to a new audience."
Home
>>
Food Industry Section