Home
>>
Government, Legal & Humanity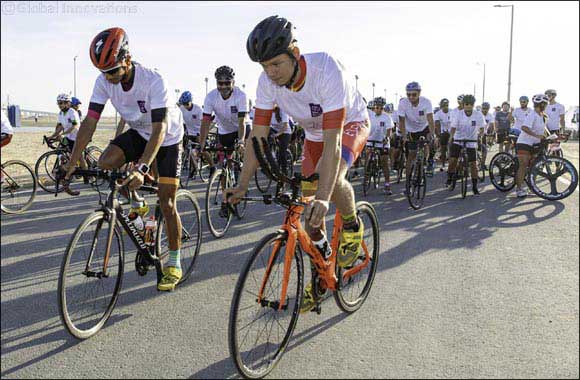 Over 200 cyclists take part in NYU Abu Dhabi's second annual Ride for Zayed
Riders, led by Emirati triathlete Faris Al Zaabi, aimed to complete 101 kilometers at Hudayriat Island
Seven cyclists completed 101 kilometers in commemoration of the late Sheikh Zayed bin Sultan Al Nahyan
Abu Dhabi – UAE, December 14, 2019: NYU Abu Dhabi (NYUAD) held its second annual Ride for Zayed cycling event today in honor of the late Sheikh Zayed bin Sultan Al Nahyan, the Founding Father of the UAE.
Following the success of the inaugural ride last year, the second edition saw over 200 participants come together to cycle the 5 and 10km track on Hudayriat Island in Abu Dhabi. Seven of the participants completed 101km around Hudayriat Island, completing one kilometer for every year since the birth of the late Sheikh Zayed.
Faris Al Zaabi, an Emirati triathlete, joined participants in completing the challenge.
The free community event brought together cyclists from over 30 countries.
NYU Abu Dhabi Women's Intercollegiate Athletics and Sports Communications Coordinator Salma Al Busaeedi commented: "We are proud to organize Ride for Zayed for the second year, promoting an active lifestyle while commemorating the founder of the UAE, the late Sheikh Zayed bin Sultan Al Nahyan."
"With diverse nationalities taking part in the event, we have seen a plurality of cultures using this opportunity to convene and engage with other members of Abu Dhabi's community. The entire event represents a wonderful conclusion to the Year of Tolerance, and we look forward to welcoming new and returning participants back to complete 102 km in next year's Ride for Zayed," she concluded.
Al Zaabi said: "Home to over 115 nationalities, NYU Abu Dhabi is a microcosm of the UAE's diversity. Hosting events such as Ride for Zayed is a great way to unite and encourage the greater UAE community to take up an active lifestyle. It promotes healthy challenges and demonstrates the power sport can have in bridging cultural differences."
Yas Cycles were on hand to provide bikes to participants, and Al Ain Water partnered to provide water.
Home
>>
Government, Legal & Humanity Section