Home
>>
Real Estate & Retail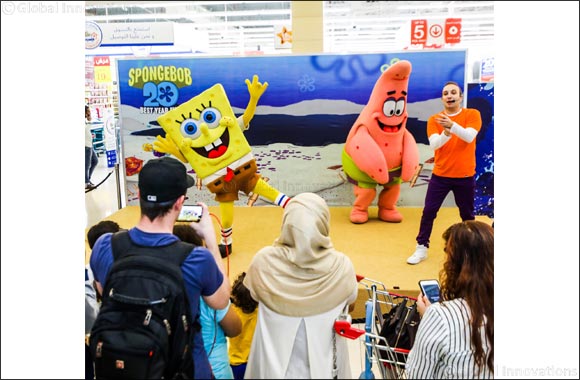 Seas the day: Nickelodeon's SpongeBob SquarePants and Patrick Star to visit Northern Emirates malls
Visitors of City Centre Sharjah can soon dance and sing along with Nickelodeon's SpongeBob SquarePants
Sharjah, UAE, 16 November 2019: Nickelodeon's SpongeBob SquarePants and his best pal Patrick Star will swap the deep sea for the desert sands of Fujairah and Sharjah this December to give kids another way of celebrating the holidays. From 19 – 21 December at City Centre Sharjah, Nickelodeon's favourite Bikini Bottom duo will be hosting workshops, sing-alongs, and meet-and-greet sessions for the whole family to get involved in.
Set on stage against a backdrop of familiar locations like Mussel Beach and Goo Lagoon, the marine characters will invite kids to sing along to the catchy theme song and other popular underwater tunes as they dance and perform short, humorous skits. SpongeBob and Patrick will also help highlight the importance of imagination as they lead workshops on arts and crafts and painting with the kids. At meet-and-greet and photo opportunities, kids will make even more memories as they pose for a picture with their favourite characters.
Mohamed Al Matroushi – Mall Manager at City Centre Sharjah - Majid Al Futtaim – Properties, said, "We cannot wait to host these two stars of the cartoon world and bring another new and interactive experience to our community. Kids and adults alike will be entertained by songs and performances, while the workshops are sure to stimulate the minds of our young guests. Welcoming these much-loved characters to City Centre Sharjah underlines our desire to create great moments for our shoppers as we position each mall as an entertainment hub in the Northern Emirates."
SpongeBob and his pals visited City Centre Fujairah earlier this month for a similar programme full of song, laughter, and deep-sea creativity. With several families and children in attendance, the celebrity sea sponge thoroughly enjoyed his time in the Northern Emirate.
Home
>>
Real Estate & Retail Section