Home
>>
Government, Legal & Humanity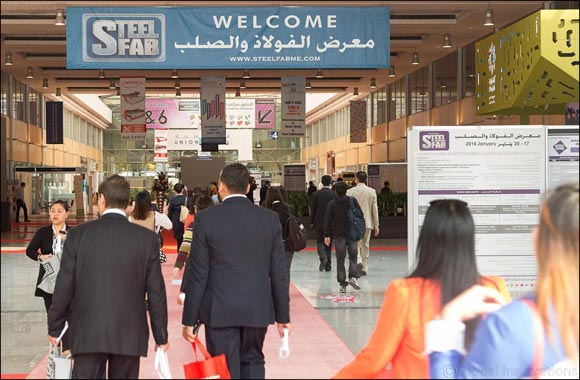 Stage set for 16th SteelFab 2020 at Expo Centre Sharjah
Sharjah, 11 January 2020: Technology is set to take centre stage as the region's premier metal working, metal manufacturing and steel fabrication industry event gets ready to roll on Monday (Jan 13) at Expo Centre Sharjah.
A trusted platform for the past 16 years, the four-day SteelFab 2020 will once again become a gateway for latest technology and innovations from across the world, besides serving as an important platform for the regional fabrication industry to meet, network and share experiences.
More than 300 exhibitors from 35 countries have confirmed their participation in the event, and they will be displaying more than 700 international brands of machinery and equipment at nearly 20,000 sq m of premier exhibition space.
"Manufacturing is the growth engine of our economy; the steady growth seen over the past few years showcases the success of the country in establishing a strong manufacturing base and its contribution to economic diversification. And, the SteelFab has been an indicator of our manufacturing prowess for many years now. I am sure the event will bring together key local and regional players, while welcoming the world's leading manufacturers and distributors," said H.E. Saif Mohammed Al Midfa, CEO, Expo Centre Sharjah, ahead of the event.
Al Midfa added that new technology will rule the trends at SteelFab across all its special focus areas, national pavilions, live displays, and technical seminars. Visitors can expect to find latest products and innovations in the fields of metal forming, surface preparation, finishing, grinding, cutting, machinery manufacturing and other relevant engineering disciplines.
'These days, manufacturing is no more characterised by batch production and long-part runs. Instead the process has been taken over by CNC programming, quick-change tooling and digital revolution. And, if you want to obtain cutting-edge tech to reduce downtime, achieve faster turnarounds, improved product design and quality, and greater potential for a wider product range, the SteelFab is your only one-stop shop," said Mr Sultan Shattaf, Director, Sales and Marketing, Expo Centre Sharjah.
Apart from its special focus areas such as Wear Resistant, Welding & Cutting, Machine Tools and Tube & Pipe, in a first, SteelFab will launch a competition, the Best Welder competition, in association with Lincoln Electric and Middle East Industrial Training Institute, aiming to promote excellence in workmanship. The contest will be held during the show and winners awarded a slew of prizes.
An integral part of SteelFab since the past five years, the Fasteners World Middle East will also be held concurrently with SteelFab.
The show will be open from 10 am to 7 pm daily only for trade and professional visitors. Entry and parking are free.
Home
>>
Government, Legal & Humanity Section