Home
>>
Entertainment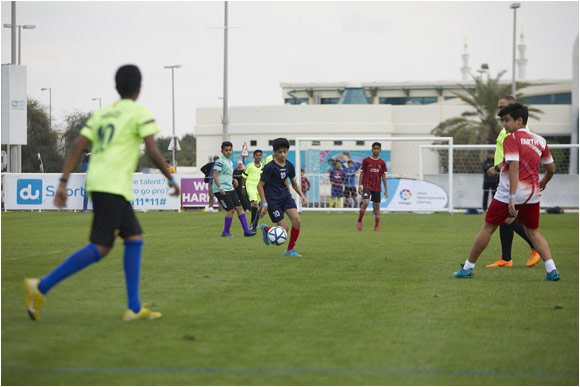 du Football Champions Season 5 Successfully Kicked off Abu Dhabi Leg
Abu Dhabi, UAE, 12th January 2020 – Season 5 of the award-winning du Football Champions, the only international scouting platform in partnership with LaLiga and home of the official UAE Schools and Streets Cups and UAE Girls Challenge, successfully kicked off its Abu Dhabi leg at Zayed Sports City.
Saturday kicked off for the UAE Streets Cup U14 category, with over 360 players registered, the largest group in that category in Abu Dhabi to date.
On the field, the Future Stars team crushed it scoring a perfect 9 points in the group stages, while netting 14 goals in their three matches, securing themselves a place in the Abu Dhabi Knockout Stage.
In addition to Future Stars from Group B, also moving forward are Dream Sports FC from Group A, MFC Ace from Group C and PROWL from Group D.
"It was a great day! Our team did really well. We had to fight a bit in our first match, but then our team dominated the next two matches. I'm thrilled we are moving forward to the knock-outs," said Ismail Ismail, assistant coach of Future Stars team.
LaLiga Scouts actively followed all the games and looking for outstanding talents to invite for trials at du LaLiga High Performance Centre, who has been producing a steady pipeline of professional football players for local and regional clubs and national teams.
"We are excited to identify top talents from Abu Dhabi this year, which are growing in numbers year on year at du LaLiga High Performance Centre. The large number of U14 players this week bears well for scouting, as we believe that the younger the players, the more time we would have to train and develop them, bringing out their highest potential," said Iago Aguilar, du Football Champions Technical Director. Aguilar continued, "We are thrilled that so much talent showed up in the capital."
The UAE Streets Cup U14 competition will continue to play next week with the addition of UAE Streets U16 teams. It's shaping up to be quite a battle. Watch this space!
The Abu Dhabi leg follows the successful completion and knock out stages in Northern Emirates at the end of last year, which will be followed by the Dubai leg starting from 8th of February.

--ENDS--
Home
>>
Entertainment Section