Home
>>
Education & Training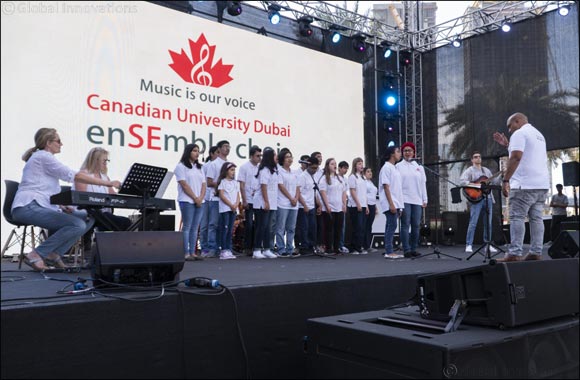 Canadian University Dubai enSEmble Choir Rocks at DSF's 'Market Outside the Box' Event
UAE's first choir for Determined Ones and CUD's dance and music groups enthrall the audience

Dubai, February 5, 2020: Canadian University Dubai highlighted its performing arts with a 90-minute concert held at 'Market Outside the Box' (MOTB), one of Dubai Shopping Festival's attractions, at Burj Park, on 25th January. The performance consisted of CUD's dance club, K-pop dance group, band and enSEmble Choir – the UAE's first choir for the 'determined ones.'

The picturesque open-air venue overlooking the Burj Khalifa echoed to the cheerful sounds of the choir, as a supportive audience of parents, well-wishers and casual visitors watched transfixed by their amazing performance.

Conducted by Rivaan Mager, the CUD enSEmble Choir began the performance with 'My UAE', a tribute to the UAE's spirit of tolerance and inclusiveness, followed by 'Power in Me', the popular hit by Rebecca Lawrence. The piece de resistance was a touching rendition of Mariah Carey's hit 'Hero', a very apt song for the choir.
"The Burj Park stage presented a wonderful opportunity for our students to showcase their talent in music and dance," said Dr. Rami El Khatib, Dean of Student Affairs at CUD. "Canadian University Dubai encourages students to engage in performing arts, as part of our motto of creating well-rounded individuals before they begin their careers. All the participants gave incredible performances, including the CUD enSEmble Choir, which eloquently proved that a handicap is no barrier to achieving excellence."

The 'Market Outside The Box' bazaar hosted local artisans showcasing homegrown brands, selling everything from funky jewellery, beachwear and other fashionable items to home accessories. The stage featured performances by local, regional and international musicians, DJs, dance shows and a slew of exciting entertainment.
Home
>>
Education & Training Section