Home
>>
Government, Legal & Humanity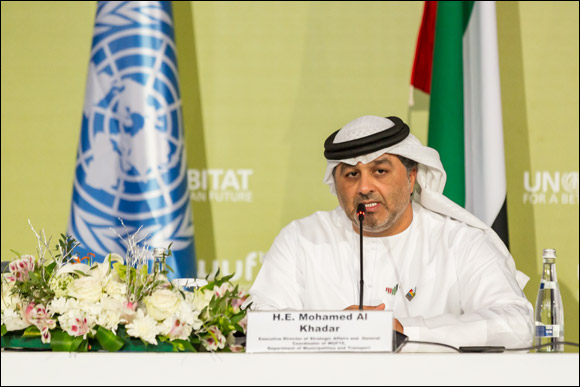 Abu Dhabi Department of Municipalities and Transport (DMT) Launches Book With Pomeroy Academy for Tenth World Urban Forum (WUF10)
Book sheds light on how culture and innovation is shaping sustainable cities of the future
Abu Dhabi, 10th February 2020 - The Department of Municipalities and Transport (DMT) today launched a book with leading sustainable educators and researchers, Pomeroy Academy. The book accompanies the 10th session of the World Urban Forum (WUF10), which is taking place for the first time in the Arab region this week until 13th February.
Developed by Pomeroy Academy, and edited by its founder, award-winning architect, academic and television presenter, Professor Jason Pomeroy, the book, entitled 'Cities of Opportunities: Connecting Culture and Innovation', provides an enlightening accompanying text for the prestigious event. The text brings together a series of essays from leading luminaries on the Forum's main theme of driving sustainable urbanization through culture and innovation.
Commenting on the book launch, H.E. Mohamed Al Khadar Al Ahmed, Executive Director of Strategic Affairs at DMT and General Coordinator of the World Urban Forum 10, Abu Dhabi, said: "This is the first time a Middle Eastern country has hosted the world's most important conference on cities and human settlements. We are delighted to launch 'Cities of Opportunities: Connecting Culture and Innovation,' edited by Professor Pomeroy, which really captures many of the important conversations set to take place during WUF10."
Published by Routledge, 'Cities of Opportunities: Connecting Culture and Innovation,' is Professor Pomeroy's fourth book, and addresses six distinct pillars of sustainability, covering social, economic, environmental, spatial, cultural and technological sustainability. The work features insight from Abu Dhabi's Cabinet Member and Minister of Climate Change and Environment, Dr Thani bin Ahmed Al Zeyoudi, along with contributions from other eminent academics, policy makers and practitioners drawn from various geographies, disciplines and fields of expertise addressing various urban challenges. These include Mr Charif Hamidi – Co-founder and CEO, ED 4.0, Abu Dhabi; Ms Maria Vassilakou, Deputy Mayor and Executive City Councillor, Vienna, Austria; and award-winning film producer Mr Emmanuel Benbihy, among others.
Professor Pomeroy, said: "In the wake of population increases, climate change, globalisation and unpresented technological advancements, we ask the question of whether it is truly culture that drives a city, or is it innovation? The answer is both. We seek to explore broad perspectives around this idea in the context of global cities today, with a book, which aside from being the perfect companion to WUF10, is also a useful source of innovative sustainable thinking for students, academics, policy makers and practitioners the world-over."
The conference, convened by UN- Habitat focused on urban issues, provides a high level, open and inclusive platform for addressing the challenges of sustainable urbanization. Established in 2001 by the United Nations the Tenth Session of the Forum will be hosted by The Department of Municipalities and Transport, under the patronage of His Highness Sheikh Mohamed bin Zayed Al Nahyan, Crown Prince of Abu Dhabi and Deputy Supreme Commander of the UAE Armed Forces.
Home
>>
Government, Legal & Humanity Section