Home
>>
Technology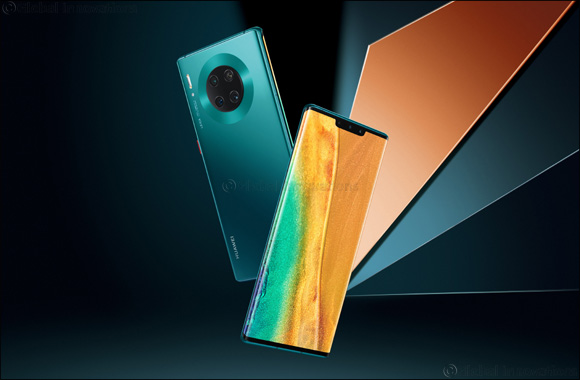 5G Smartphones: Everything You Need to Know About Them and Why HUAWEI Mate 30 Pro 5G is The King of Them All
Dubai, United Arab Emirates, February 13, 2020: We all wish for faster Internet speeds and stronger connections. With the era of 5G connectivity right around the corner, this wish could soon come true. On the other hand, to enjoy true 5G, you are going to need a smartphone that is capable of providing you with an uninterrupted 5G experience. New 5G smartphones are expected to see huge growth over the next few years as more and more consumers begin to adopt the technology. According to Gartner, worldwide sales of 5G smartphones will total 221 million units in 2020- accounting for 12 percent of overall mobile phone sales - before more than doubling in 2021 to 489 million units*.
If you are planning on making the switch to a 5G smartphone, there are a few things that you need to be aware of.
Support for both NSA and SA 5G network architectures
5G networking has rapidly grown today, with many regions adopting two main networking architectures, namely Non-Standalone (NSA) and Standalone (SA) architectures. NSA networks use the existing 4G network architecture, with a possibility to switch to SA 5G networks in the future. Some countries have also adopted the SA 5G network architecture already. SA networks have the added advantages of being faster with larger bandwidths and more stable connections.
To ensure that your 5G smartphone works across any type of 5G network, regardless of the country or stage of development, you will need a phone that supports both NSA and SA networks, a feature that is found only on the HUAWEI Mate 30 Pro 5G, the world's first second generation 5G smartphone. This is made possible mainly due to the dedicated Kirin 990 5G chipset, which not only provides you with a better connectivity experience, but also powerful and efficient performance at lower temperatures.
Make sure you have the power needed

5G connectivity can be quite battery draining, which means you are going to need a battery that can last long and even recharge back up quickly. The HUAWEI Mate 30 Pro 5G comes with a massive 4500mAh battery, which can last for extended periods of intensive use. Charging it back up is not a problem either, thanks to the 27W wireless HUAWEI Supercharge or 40W wired HUAWEI Supercharge. For those of you on the go, you can also use the 40W In-car Wired Charge or the 27W In-car Wireless Charger. To top it off, the upgraded Wireless Reverse Charge feature on the HUAWEI Mate 30 Pro 5G will allow you to quickly charge up other phones or accessories.
Be safe and secure

Huawei has built an isolated Trusted Execution Environment (TEE) outside the open Android environment that keeps all your passwords, fingerprint details and facial scans stored safely on the most secure part of the chipset. Additionally, the AI Private View feature will detect if there are extra eyes creeping into your phone and quickly hide your notifications.
The added bonus of AI iconic features

Now that you have a fast and powerful 5G connection, it's time to enjoy it to the best of its capabilities. Enjoy streaming high quality videos, especially on the 6.53 inch FHD+ display that boasts an endless screen design complete with an 88 degree Ultra Curve. Thanks to its advanced AI prowess, you can also enjoy using your smartphone without having to actually touch it! With AI Gesture control, you can simply wave your hand to scroll or even pinch to take a screenshot. The HUAWEI Mate 30 Pro 5G can also detect the angle of your eyes, automatically rotating the screen. You can also just tap your phone with your laptop and use the Multi-screen collaboration* feature to seamlessly stream your phone to your desktop, allowing for easy data transfers and enhancing productivity. What's even better is how good the HUAWEI Mate 30 Pro 5G looks, thanks to its Halo Ring design and unique color variants of Emerald Green and the Vegan leather clad Orange.

*Available on certain HUAWEI phones and HUAWEI Matebooks only.

Having a faster and stronger network connections means quicker downloads and uploads. This means you can upload the latest episode of your vlog or a new video to video platforms or even social media at lightning speeds. With the HUAWEI Mate 30 Pro 5G's award winning camera consisting of a 40MP SuperSensing Camera, a 40MP Cine Camera, 8MP telephoto camera and a 3D depth sensing camera, you can take professional quality videos and upload them directly from your phone, in 4K! You can also get creative with Ultra-slow motion at a staggering 7680fps, capable of recording a humming bird fluttering its wings and Ultra Low-Light Video at an ISO of 51,200, both of which was previously possible only with the help of professional camera equipment.
Essentially, 5G connectivity is right around the corner. If you are planning to be prepared for the 5G revolution, you need to be geared up with the HUAWEI Mate 30 Pro 5G, the King of 5G smartphones.
Home
>>
Technology Section