Home
>>
Entertainment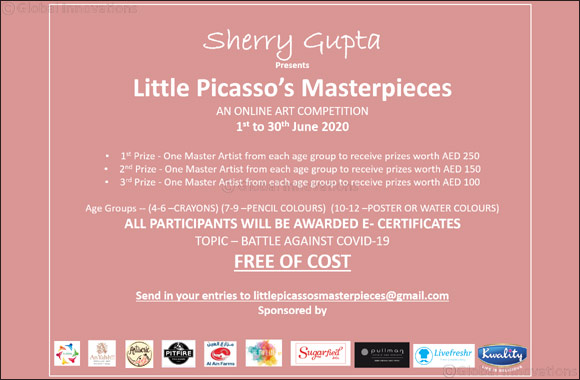 Free Online Art Competition for Kids
Dubai, United Arab Emirates, June 01, 2020: This summer, kids can beat the heat with an online art competition. Open to children in the age group of 4 to 12 years, the competition is a FREE OF COST initiative by blogger Sherry Gupta. While locked inside their houses, the competition is a platform for little artists to display their wonderful masterpieces which deserve larger attention. The online art event 'Little Picasso's Masterpieces' with support of a few of the UAE based brands, aims to encourage the artists by gifting them interesting goodie bags.
Winners will receive prizes worth Dhs 1500 in total and select art works be displayed at an art gallery in DIFC. In addition, a select artist will have the opportunity to work with Pizza brand Pitfire in Jumeirah Lake Towers to design the pizza box. Plus there will be many surprise gifts. Running under the theme 'Battle Against Covid19' the kids are expected to think and create creative interpretation of solutions to fight against global pandemic.
The three categories for participants are based on age group.
• 4-6 Age Group for Crayon Colours
• 7-9 Age Group for Pencil Colours
• 10-12 Age Group for Poster or Water Colours
First prize winners from each category will receive a goody bag worth Dhs 250 each, second prize winners will receive gifts worth Dhs 150 each and third prize winner will be awarded gifts worth Dhs 100 each. To participate in the contest, send entries to littlepicassosmasterpieces@gmail.com For entries to be considered, it is important to mention name of the child, age group, address and mobile number. Last date to submit entries is 30 June.
Winner prizes have been supported by Sugarfied&Co., Livefreshr, Pullman Hotels and Resorts, Dubai Jumeirah Lakes Tower, Kwality Icecreams, Al Arooba, AnYahh Art Gallery in DIFC, Artiserie-A healthy gelato brand, Pitfire Pizza, Al Ain Farms and The Broth Lab.
Home
>>
Entertainment Section