Home
>>
Technology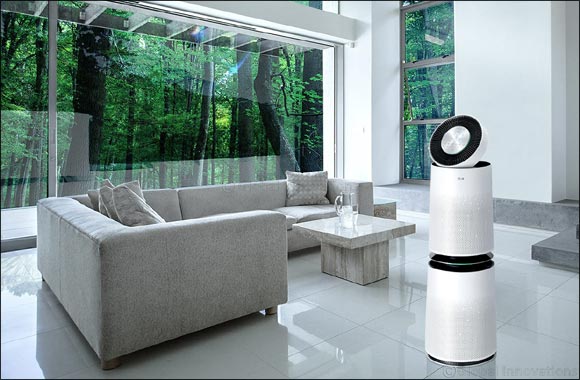 Six Ways LG's Puricare Air Purifiers Can Help Families Improve Air Quality at Home
LG's Air Purifiers Feature Innovative Technologies Backed by the British Allergy Foundation to Prevent Allergens Known to Cause Respiratory and Skin Diseases

Dubai, United Arab Emirates, July 01, 2020: The quality of the air we breathe has a direct impact on our health and wellbeing. This applies not just to our environment, but indoors as well – where we spend a majority of our time. Children, babies and pregnant women are particularly susceptible to airborne allergens that could cause respiratory ailments like asthma, and keeping the indoor environment safe from allergens is crucial to ensuring they remain healthy.
Chronic respiratory illnesses like asthma affect millions across the globe, and Oman is no exception. There is no cure for asthma, but it can be prevented and the symptoms alleviated. These symptoms include breathlessness, chest tightness, coughing and wheezing, that many do not recognise as symptoms of asthma, resulting in the condition going untreated.

However, ensuring that the home is free of dust, particulate matter, harmful pollutants, moulds, fungal spores, mites and other allergens is one of the best lines of defence against asthma. To tackle this, LG has brought its technological innovations to its range of PuriCare Air Purifiers, using comprehensive filtration methods to ensure that even the minutest of particulate matter, harmful gases and allergens are eliminated from the indoor environment, resulting in the purest air for your family and loved ones.

The technology is so effective that it has even been endorsed by a number of global institutions, including being British Allergy Foundation certified to prevent allergens and backed by the Asthma and Allergy Foundation of America (AAFA) for capabilities of reducing bio-allergen airborne levels by 75% or greater over time.

Additional accreditation comes from the Korean Air Cleaning Association for the optical dust sensor built into each LG PuriCare air purifiers, recognized for the ability to detect and remove super-fine dust.

With summer upon us, respiratory illnesses are likely to be on the rise with the changing weather conditions. It is also the time when many families aim to spend quality time together indoors to beat the heat and humidity outdoors. To ensure your family breathes clean, allergen-free air indoors, an air purifier is a cost-effective, eco-friendly, energy efficient and green solution. This list will guide you through the key factors to consider when purchasing an air purifier and demonstrate why the LG PuriCare range of air purifiers is the ideal solution for your home.

360° Purification

An air purifier should be able to filter the air from anywhere in your home, delivering clean, filtered air to every corner efficiently. LG PuriCare offers 360° filtration and coverage to ensure your loved ones can breathe clean, allergen-free air no matter where they are in the room or home. Its Clean Boost technology further enhances the range of coverage, ensuring clean air reaches even the farthest corner of your home.

6-Step Comprehensive Filtration

At the heart of every air purifier is a filtration system designed to remove particulate matter from ambient air. This is usually categorised as PM, followed by a number, which denotes the size of the particles in micrometres (μm). While most air purifiers provide filtration of PM 10 and 2.5, LG's PuriCare range offers PM 1.0 filtration as well. This comprehensive filtration protection ensures the allergens and PM substances usually associated with triggering asthma attacks and other respiratory conditions are completely removed from the home. The LG PuriCare uses a six-step process to achieve this, ensuring you and your family breathe in only the cleanest air indoors:

Step 1: Large dust removal (PM 10)
Step 2: Dust storm/Ultra-fine dust removal (PM 2.5)
Step 3: Allergy removal
Step 4: Living environment odours, including ammonia (PM 1.0)
Step 5: Volatile Organic Compounds (PM 1.0)
Step 6: Smog compounds (PM 1.0)

Baby Care

Young children, infants and toddlers are particularly susceptible to particulate matter and airborne allergens, which is why it is doubly important to ensure clean air around them. Conventionally, air purifiers are designed to distribute air using convectional currents, sending air up and around for spatial coverage. However, this method does not distribute air evenly at ground level, which is usually where toddlers play or crawl. LG's specially designed PuriCare air purifiers have independently operational lower ducts to ensure that clean, filtered air is distributed at the ideal height for infants and toddlers.

Achieve Clean Air Anywhere
Believing that clean air should be accessible wherever a person goes, LG also recently launched the world's first filter-type, portable air purifier across markets in the Gulf region. With people spending more time on-the-go, the PuriCare Mini is designed to deliver on the promise of clean air, no matter where a user may be. When it comes to portability, the PuriCare Mini weighs a mere 530 grams – similar in likeness to a 500ml bottle of water. Even with its sleek profile, the compact device can deliver fast and efficient air purification, via its own unique 4-step filtration system. PuriCare Mini also have holders for cars and strollers as accessories, making it easy to access clean air for every movement.

Smart Sensor and Display

Most harmful indoor pollutants are odourless and not easily detectable. These gases could spread through your home and cause respiratory illnesses and allergies, especially if there is a lack of proper ventilation. The LG PuriCare range is equipped with a smart PM 1.0 and gas sensor that provide real-time readings of your indoor odours and particulate levels. The colour-coded Smart Indicator independently displays and controls the odour quality indoors, even when the air pollution level is at its cleanest.

Portability and Design

It is important to consider portability and design when choosing the right air purifier for your family. Sharp edges or a clunky design may be dangerous with toddlers or small children. Heavy air purifiers, especially those with a tower design could fall or tip over, causing injury and/or damage. Some air purifiers may advertise more features, but might come at the cost of being bulky and heavy. Cleaning and maintaining the air purifier and its filters might also be cumbersome. The LG PuriCare range comes with none of these drawbacks, but all the benefits of a highly functional and efficient air purifier. This means peace of mind for you and your whole family.

Seamless Connectivity

As IoT (Internet of Things) permeates every household, you need an air purifier that also offers seamless connectivity with your other devices. LG makes managing your smart appliances easy using the LG ThinQ app (available on Android and iOS). LG ThinQ has an intelligent algorithm that gets smarter the more you use your appliances via the app, remembering usage habits and data to better anticipate your needs. Using the app, you can check in on your PuriCare air purifier from anywhere, monitoring the dust level, filter maintenance and even get alerts on the air quality inside your home as detected by PuriCare's myriad sensors. The LG PuriCare range of products with LG ThinQ gives you high quality performance and efficient, seamless operation.
Home
>>
Technology Section