Home
>>
Entertainment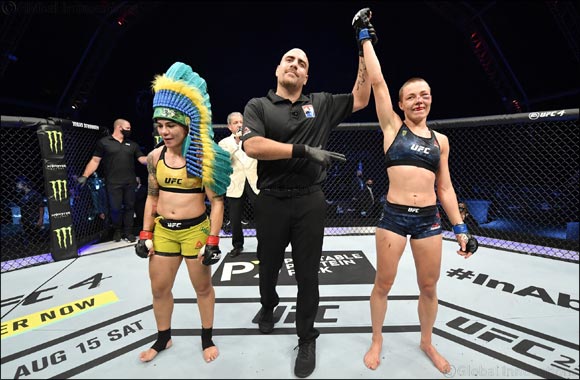 UFC 251
UFC 251: USMAN vs. MASVIDAL
POST-FIGHT BONUSES

Fight of the Night:
Jessica Andrade vs. Rose Namajunas

Performances of the Night:
Davey Grant and Jiri Prochazka

UFC 251: USMAN vs. MASVIDAL
QUOTES & SCORECARDS

Kamaru Usman defeated Jorge Masvidal via unanimous decision

Kamaru Usman:

Gamebred is the biggest, baddest dude out there right now. I had to switch gears on six days' notice. I know a lot was made of him taking this fight on short notice, but he was preparing. All these guys are preparing for one guy—and that's me at the top of the mountain. I had to make a mental shift. I trained for Gilbert and had a completely different game plan. I had a lot of other things coming into the fight, but that's no excuse. Gamebred is tough and he showed it out there. He took a lot of big elbows on bottom, but he kept getting up and fighting. He didn't quit.

Jorge is a tough guy and I give him credit for that. They call him Gamebred for a reason. He's always game to fight. I'm just a level better. I have more tools in the toolbox. When I need to pull them out, I can pull them out and use them.

I'm at the top of the mountain. I'm the champion. Everybody's looking at me. So there's never going to be a shortage of contenders. First and foremost, I've been training for a long time. I've been training since February and this fight was supposed to happen in April, then May and talks of June. It didn't happen. My daughter has been telling me I need to take her on vacation. I wish the world would get back to normal so we could travel.
Alexander Volkanovski defeated Max Holloway via split decision

Alexander Volkanovski:

It was a tough fight. He stood there and didn't take a backwards step. He made it tough for me in the earlier rounds, I didn't use the kicks as much as I would have liked, but I got the job done. That's the main thing. I knew it was two rounds a piece going into that last round. I had to win that last round. I wanted a finish. He went for the finish. Unfortunately, neither of us got it. I won the decision and that's what counts.

I'm a well-round fighter. I wasn't using the right kick as much because my leg is still sore from the last fight. Once I touched that, I couldn't really use it. Then it happened with the left leg, but I knew the pain would go away if I kept using it. He's tough. He's a gamer. We're both hard workers, but I got the job done. Nothing but respect to Max. We had words, but maybe he was just trying to get in my head.

This is the fight game. Prepare for the worst. I wanted to finish him early. I couldn't get that done, but I got the job done.

It was a short camp. We both had short camps, so no excuses. He made some good adjustments, so it took me a while to get used to that. I got there in the end. The first two rounds were tough, but I came away with the last three. I had to use all of my tools this fight. it just shows you what type of fighter Max Holloway is.

I definitely want to get another fight in (before the end of the year). I want to stay active. I'm one of the champions who is chasing the contenders. We've got a lot of guys in the division who are about to fight each other and I'm eyeing every one of them. I want to make defenses and take out No. 1 contenders. That's what I want to do.

Shout out to everyone back in Australia. Thanks for the support. 'The Great' reign continues.
Petr Yan defeated Jose Aldo via fifth-round TKO

Petr Yan:

I expected it to be a hard fight. He hit my leg and I was forced to change stance. It got me off my game a little bit.

It is a crazy situation in the world to prepare for this fight. The world was closed, but we worked hard to prepare. Aldo is a legend. I have only respect for him.

In the beginning, I wanted to put pressure on him, make him tired and then start attacking after the third round. That's exactly what happened. In the first and second round, he had hard punches and low kicks. I waited and pressured him. After the second round, I started to work. It was a good knockout. I liked it.

My division has very tough fighters in the top five. The No. 1 contender is Aljamain Sterling. I will fight everyone. I like it, it's my job.
Rose Namajunas defeated Jessica Andrade via split decision

Rose Namajunas:

It was fun, man. I was just in the right state of mind. That's everything.

Early on in the fight, I was doing great. Then I think she hit the desperation button and started really unloading. She caught me a couple times, but I just stayed strong.

The first part of it is getting right with God. That's number one. From there, everything else (comes together)—technically, physically and loving what I do again. That was everything.

I was hoping to get in there soon, but we'll see how my nose is doing and go from there.

Amanda Ribas defeated Paige VanZant via first-round submission (armbar)

Amanda Ribas:

Thanks to the UFC for the opportunity to fight here. It doesn't matter who you are. What matters is what you do with your life. I was training in a small city and no one thought I could beat the girl training in the big gym. But I have a big heart. I gave all my energy to come here and do my best.

I'm very happy. The energy was amazing and I came out with a victory. I had my dad and brother in the Octagon with me and started to cry. There were a lot of emotions in my heart. I was happy I could show my Jiu-Jitsu.

If I fight next at 115 pounds, I hope I get the winner of Marina Rodriguez and Carla Esparza. If the UFC puts me at flyweight again, I hope to get a top 10 or top 15. Now, it's time to eat my chocolate.
Home
>>
Entertainment Section