Home
>>
Technology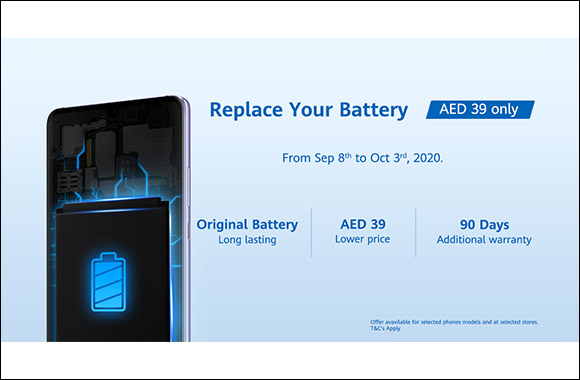 Huawei Offers UAE Users to Upgrade Their Smartphone's Battery With Genuine, Safe and Reliable Replacements Just for a 39AED
The offer runs until September 30th, 2020, includes no additional charges, and gives UAE consumers the opportunity to replace the battery on their device with a genuine Huawei unit*
Dubai, United Arab Emirates - September 23, 2020: Huawei is it offering UAE consumers the option to replace the battery on their device with genuine, original long lasting, good quality, safe and reliable replacements for just 39AED as part of a limited time offer.

The offer, which runs until September 30th, 2020, aims to encourage consumers to use Huawei Authorised Service Centers where they can take advantage of Huawei's high-quality customer service and original parts.
The attractive price includes no additional labour charges and allows consumers to replace and update batteries across long list of Huawei devices such as the flagship P series and Mate series, the trendy flagship nova series and entry level Y series. It also includes products in the MatePad series, the Ascend Mate range and more.

The replaced batteries are covered by an extra 90 days warranty showcasing Huawei's ongoing commitment to customer care.
Home
>>
Technology Section