Home
>>
Entertainment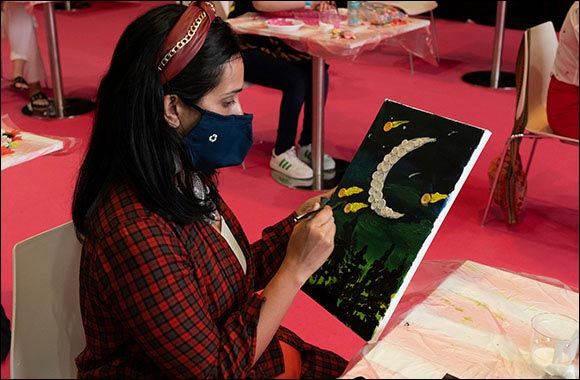 World Art Dubai Honours Industry's Finest
Coveted awards for Best Gallery, Best Artist, Best Emerging Artist, Outstanding Art Award, and School Competition winners announced
Local and international artists and galleries report high sales with live DJ and live art performances fuelling atmosphere
United Arab Emirates, October 10, 2020: World Art Dubai 2020, the region's most accessible and affordable art fair, has celebrated the very best of global art community talent at the World Art Dubai Awards, with multiple accolades recognising the event's top artists and galleries.
With the emirate's first international event to restart the exhibitions season running until October 10 at Dubai World Trade Centre (DWTC), World Art Dubai features a diverse collection of more than 2,000 artworks from a wide variety of mediums and styles by 120-plus artists and galleries from more than 20 countries.

World Art Dubai Awards

The World Art Dubai Awards again raised the profile of the show's most talented, selecting artists, galleries and artwork that were creating a buzz amongst visitors at this year's show. Taking the top accolade, award winners had to excel in regards to concept, execution and skill, with the gallery selection also taking into consideration presentation and curation of the work, and the emerging prize looking to see a fresh perspective on art.

The winners were unanimously selected by World Art Dubai's expert curators, Batool Jafri, the 'Emirates Woman of the Year 2018'; Samar Kamel, an Egyptian artist, curator and author; and Petra Kaltenbach, a fine artist, videographer and graphic designer.

"I really didn't expect to be chosen to win the award, I'm so happy to be recognised for my work," said Victoria Heath who collected the Best Emerging Artist Award. "It's my first time to exhibit as a solo artist, I've only exhibited as a part of a gallery previously – I'm so grateful to win."

Lina Osama, Senior Art Curator at The Arts' Hub, which won Best Gallery, said the show had exceeded their expectations: "This is our very first participation as a gallery at World Art Dubai, and we were not expecting to experience such success on the first day – the audience was full of energy and passion. Dubai is a really interesting place for artists and people in the art business, so to collect this award is a tremendous honour for our team, who have worked so hard to be here."

The World Art Dubai Award winners also included Noor Bahjat, named Best Artist, and Rozan Takeuchi, who took home the Outstanding Art Award.
Schools across Dubai were also awarded for their creativity, with group projects showcasing top talent from junior and senior schools, under the theme 'Inclusion' recognised. First place was awarded to Nord Anglia International School, with second and third place going to GEMS New Millennium School and Repton and Foremarke respectively.

Urban art takes centre stage

With the range of artwork representing the diversities of cultures the show attracts – from traditional Arabic art, to street-style graffiti – new and returning features have proven popular with visitors enjoying experiences in the safe and controlled show environment.

Headline features include Urban Art DXB, a dedicated area highlighting established street artists from around the globe exhibiting around the show's live DJ. Artists from world-renowned urban art galleries include Vandalist Art, the award-winning London based gallery, and Casa De Maquinas, a collective of bikers, artists and skaters from Mexico, Ukraine, California, the UK and Japan which draws inspiration from motorcycling, hot rods, and street culture.

Socially distanced workshops

The first workshops in the exciting and engaging programme saw visitors craft their own art whilst maintaining social distancing. Valentina Alexeevna, a Russian artist, led workshops including Button Mosaic where a keen audience created unique canvas pieces using paint and buttons.
"My workshops have been really well received, with visitors excited to create their own artwork to take home" said Alexeevna. "The workshops are completely free to attend with art educators offering guidance on a wide range of topics."

Additional features

World Art Dubai's Creativity Unmasked zone, which has welcomed artwork created during lockdowns across the world has attracted visitors, who have also brought their own apparel to the show to be customised for free with Wearable Art by Craftology. The show's popular Art For Every Wall, a budget-friendly zone where pieces are priced under Dh 3,000, has also been welcomed.

Visitors need to register online and are encouraged to purchase tickets via www.worldartdubai.com. Entry to the show is priced at Dh 20 for adults, Dh 10 for kids aged 12 - 18, and free for kids under the age of 12 (must be accompanied by an adult). Family packages are also available, starting at Dh 45 for families of three (two adults and one child), and Dh 55 for families of four (two adults and two kids).
Home
>>
Entertainment Section