Home
>>
Banking & Investments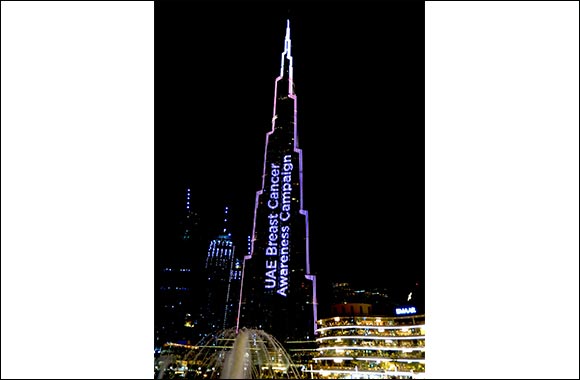 Burj Khalifa Shines in Pink in Biggest Worldwide Visual Campaign for Breast Cancer Awareness
Emirates Oncology Society and Emirates Medical Association, in collaboration with Burjeel Cancer Institute at Burjeel Medical City, initiated nation-wide campaign to raise awareness on early detection of breast cancer
Dubai, UAE, 26 October 2020: In an effort to spread the strong message of Pink October 2020, and intensify the fight against breast cancer, Emirates Oncology Society and the Emirates Medical Association, in collaboration with Burjeel Cancer Institute at Burjeel Medical City, initiated a nation-wide campaign by lighting up Burj Khalifa with pink colour and displaying a series of tips on the importance of early detection of breast cancer. The activity is the biggest visual campaign for breast cancer awareness in the world up to date.

Breast Cancer Awareness Month, observed in October of every year around the world, provides an opportunity to shine a light on healthy living in the UAE, and remind women to be mindful of their well-being and the importance of early detection of screening tests to ensure speedy cure.
"We are delighted to launch this biggest worldwide campaign for breast cancer awareness in Burj Khalifa, one of the UAE's landmarks as the country is making rapid strides in healthcare industry as part of its 2021 Vision to be one of the best countries in the word", said Dr Humaid Al Shamsi, President of Emirates Oncology Society (EOS).

The effective control of breast cancer lies majorly in the early detection of the disease, as it ensures a better chance of accessing a wide range of treatment options", said Dr Humaid Al Shamsi, President of Emirates Oncology Society (EOS).

Dr Shamsi stressed on the importance of bi-monthly self-breast exams and yearly mammograms. "Combined with clinical and self-breast exams, mammography can increase the likelihood of diagnosing the disease," he added.

"Changes in the overall size, shape, or appearance of the breast or breast pain are to be noted as serious and alerting signs that women should be aware of," Dr. Shamsi said while stressing on the need of early detection.

Worldwide, the most common type of cancer in women is breast cancer. A woman diagnosed with breast cancer in the early stages has a 93 percent or higher survival rate. Experts recommend women who are at higher risk of developing breast cancer, such as women with family or medical history, to follow a periodic consultation plan with their doctor. Age, weight, alcohol consumption, smoking, diet and exercise are some of the risk factors that trigger the development of the disease.
Home
>>
Banking & Investments Section